Right-hander Jacob deGrom's offseason included working part time at his neighbor's livestock company in De Leon Springs, Fla., to earn extra cash and occupy his time.
It ended up affecting his primary employment.
DeGrom was kicked by a little calf at the cattle ranch and fractured the ring finger on his glove hand, requiring a cast. When he got to spring training, he eventually was able to throw bullpen sessions with someone catching the return throws for him.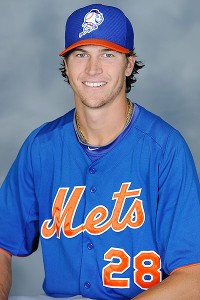 Courtesy of New York Mets
Jacob deGrom
He nonetheless became the talk of minor league coaches in spring training for the quality of his pitching, according to Dan Warthen.
"I was able to keep throwing, just not really in games in the spring," said deGrom, who opened the season on time with Class A St. Lucie. "I got my pitch count up to where they wanted it. I was fine when the season started."
Now, perhaps unexpectedly, the 25-year-old deGrom has risen all the way to Triple-A Las Vegas.
With injuries to Luis Mateo and Cory Mazzoni, deGrom moved to Double-A Binghamton after two Florida State League starts. Then, with Zack Wheeler and Carlos Torres summoned to the major league level and Collin McHugh traded, deGrom moved up again, this time to the Pacific Coast League.
Mets executives initially were unsure whether deGrom would just make a spot start or stick around with the Triple-A club. But after deGrom, a ninth-round pick in 2010 out of Stetson, allowed only two runs in 18 2/3 innings over his first three 51s starts, the decision to leave him there became cemented.
DeGrom did get roughed up for five runs in five innings on July 4, but nonetheless is 2-1 with a 3.03 ERA through five Triple-A starts.
"I pitched well in St. Lucie when I went there at the end of last year," deGrom said. "I kind of thought that maybe I would start in Double-A, but things didn't work out that way. I guess when I started in St. Lucie I thought I would end in Double-A."
DeGrom's fastball sits at 91-94 mph. The sinker is complemented by a slider and a changeup.
DeGrom's story has parallels to Bobby Parnell's rise.
Like Parnell, deGrom was not a pitcher -- at least with any regularity -- until college. During his junior season, Stetson's coaches asked deGrom, the shortstop, if he would like to serve as the team's closer.
"I was pretty good defensively, but wasn't a great hitter," deGrom said.
Later in that 2010 college season, deGrom became a starting pitcher.
"Halfway through they pulled me into the office and asked me if I minded starting," deGrom. "And I told them no. So that's pretty much when it started."
DeGrom, because of the inexperience, is still learning about pitching. The 6-foot-4, 185-pound right-hander -- who is so rail thin minor league teammates nicknamed him "fungo" -- missed the 2011 season recovering from Tommy John surgery.
"My secondary stuff still can improve, so I feel like there's still learning to be done there," he said. "I feel like I still have a lot to learn. I'm kind of new to the pitching. I've been doing it for about two years now. I feel like there's still a lot to learn."
Organization leaders
Average: Victor Cruzado, Kingsport, .375; Jayce Boyd, St. Lucie, .362; Jorge Rivero, Brooklyn, .339; Cesar Puello, Binghamton, .323; Wilmer Flores, Vegas, .317; Kevin Plawecki, St. Lucie, .316; Allan Dykstra, Binghamton, .313; Wuilmer Becerra, GCL Mets, .306; Josh Satin, Vegas, .305; Jeff Diehl, Kingsport, .300.
Homers: Dustin Lawley, St. Lucie, 18; Travis Taijeron, Binghamton, 17; Cesar Puello, Binghamton, 15; Allan Dykstra, Binghamton, 14.
RBI: Wilmer Flores, Vegas, 69; Dustin Lawley, St. Lucie, 63; Jayce Boyd, St. Lucie, 58; Allan Dykstra, Binghamton, 56; Kevin Plawecki, St. Lucie, 56.
Steals: Cesar Puello, Binghamton, 19; Darrell Ceciliani, Binghamton, 17; Alonzo Harris, Binghamton, 16; Stefan Sabol, Savannah, 12; Patrick Biondi, Brooklyn, 11.
ERA: Carlos Gomez, Kingsport, 0.00; Rob Whalen, Kingsport, 0.89; Rainy Lara, St. Lucie, 1.99; Steven Matz, Savannah, 2.28; John Gant, Brooklyn, 2.45; Matt Bowman, St. Lucie, 2.67; Gabriel Ynoa, Savannah, 2.68; Robert Gsellman, Brooklyn, 2.70; Noah Syndergaard, Binghamton, 2.76; Tim Peterson, Brooklyn, 2.95.
Wins: Gabriel Ynoa, Savannah, 10; Matt Bowman, St. Lucie, 8; Logan Verrett, Binghamton, 8; Rafael Montero, Vegas, 8; Erik Goeddel, Binghamton, 7.
Saves: Jeff Walters, Binghamton, 22; T.J. Chism, St. Lucie, 11; Bret Mitchell, St. Lucie, 10; Beck Wheeler, Savannah, 8; Hamilton Bennett, St. Lucie, 7.
Strikeouts: Rafael Montero, Vegas, 99; Matt Bowman, St. Lucie, 92; Noah Syndergaaard, Binghamton, 87; Rainy Lara, St. Lucie, 85.
Short hops
• Cesar Puello was named the Eastern League Player of the Month for June after hitting .441 with eight homers and 24 RBIs during the month. Puello, one of five B-Mets All-Stars, competed Tuesday in the league's home-run derby, which was won by Bowie's Caleb Joseph. (Watch Puello hit a shot off the scoreboard here.) Tonight's All-Star game in New Britain, Conn., also features B-Mets Josh Rodriguez, Allan Dykstra, Logan Verrett and Jeff Walters.
Puello, who has been linked to the South Florida clinic Biogenesis by ESPN's "Outside the Lines," reportedly may soon receive a 50-game suspension from MLB along with other 40-man roster players tied to the clinic.
• Binghamton infielder Danny Muno was the EL's Player of the Week after hitting .417 with three homers and 12 RBIs during the stretch.
• Right-hander Michael Fulmer, the Mets' 2011 sandwich pick out of high school in Oklahoma, has recovered from spring-training surgery to repair a torn meniscus. Fulmer made his Florida State League debut Sunday, allowing three runs in five innings.
• Sunday's Futures Game at Citi Field begins at 2 p.m. and will be televised by ESPN2. Noah Syndergaard and Rafael Montero are expected to start opposite each other, with Brandon Nimmo also participating.
• Center fielder Matt den Dekker is off to a slow start since recovering from a fractured right wrist and moving to Las Vegas. Den Dekker is 3-for-32 with five walks and 11 strikeouts in nine games since joining the 51s.
• Bahamas-raised Champ Stuart, the Mets' sixth-round pick out of junior college in North Carolina, has a .462 on-base percentage through 15 games. Stuart has "plus, plus speed," according to one Mets official.
• Reliever Chasen Bradford has been promoted from St. Lucie to Binghamton. Known for a solid sinker, Bradford was 6-2 with a 3.71 ERA in 30 relief appearances in the Florida State League.
• Mexican League signee Giancarlo Alvarado left his last start with Las Vegas with a hamstring injury, but Mets officials hope it was only a cramp. Alvarado was due for further examination Tuesday.