SAN FRANCISCO -- Zack Wheeler certainly showed the San Francisco Giants what they're missing without him.
Wheeler, 18 days shy of the two-year anniversary of his trade from the Giants to the New York Mets for Carlos Beltran, took a scoreless effort into the seventh inning in his fifth major league start and first matchup with his former employer.
The Mets ultimately completed their first sweep in San Francisco since 1994 with a 7-2 win Wednesday afternoon at AT&T Park.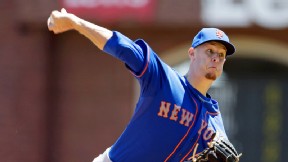 Eric Risberg/Associated Press
Zack Wheeler earned the win against the team that drafted him sixth overall in 2009.
Wheeler (3-1) held the Giants hitless until Pablo Sandoval's two-out dunk single into center field in the fourth.
Brandon Crawford, Wheeler's former teammate in Class A San Jose in 2011 before the trade, delivered a two-out RBI single in the seventh for the lone damage surrendered by the rookie.
His final line: 7 IP (a career high), 3 H, 1 R, 1 ER, 3 BB, 5 K. He threw 101 pitches, including 64 strikes.
Wheeler even contributed his first career major league RBI, on a double against Michael Kickham in the sixth that plated John Buck and staked the Mets to a 6-0 lead.
The Giants have lost 14 of their past 16. The Mets climbed to eight games under .500 for the first time since May 31.
Tweeted Justin Turner: "That's how you treat the team that traded you! That a boy @Wheelerpro45 and doing with the stick too! #LGM"
Tweeted Dwight Gooden: "Fun watching @Wheelerpro45 performance today on the mound... He looked pretty good swinging the bat as well!"
Cain not able: Matt Cain had the shortest start of his major league career. He was knocked out after pitch No. 36 -- Buck's bases-loaded, two-run single with two outs in the first, which gave the Mets a 3-0 lead.
Cain's previous shortest start had been on July 11, 2009, against the San Diego Padres, when he was knocked out after 1 2/3 innings, after getting struck on the right arm by a line drive off the bat of opposing pitcher Tim Stauffer.
Word on Byrd: Marlon Byrd produced his 15th homer of the season, a two-run shot against Kickham in the fifth. The homer total is the second highest of Byrd's career. He had 20 homers with the Texas Rangers in 2009.
What's next: The Mets spend an off-day in Pittsburgh before concluding their first half with a weekend series against the Pirates. Jeremy Hefner (4-6, 3.39 ERA) opposes right-hander Charlie Morton (1-2, 3.38) in Friday's 7:05 p.m. series opener. Carlos Torres replaces Matt Harvey as Saturday's starter.