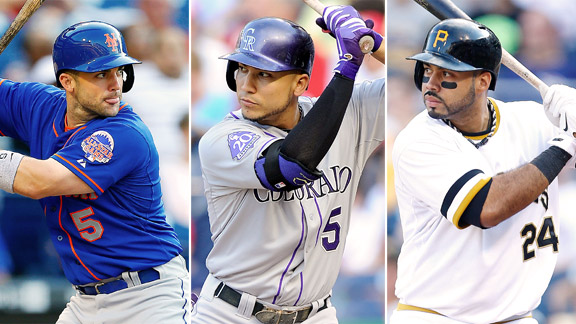 Getty Images
David Wright replaced Carlos Gonzalez with Pedro Alvarez in the Home Run Derby.PITTSBURGH -- David Wright was encircled at his locker by Pittsburgh media before Friday's series opener, after initially bypassing Pirates slugger Pedro Alvarez for the Home Run Derby, then adding him to the four-man NL team after Carlos Gonzalez withdrew with a finger injury.
Asked how he thought he would be received by the PNC Park crowd, Wright said: "I don't know. If you're referring to the Home Run Derby picks, then there's obviously a lot of well-qualified guys that I had to choose from."
At that point, Marlon Byrd interrupted from the back of the scrum and lightheartedly said: "You didn't choose me."
Wright laughed, then continued: "Unfortunately there just aren't enough spots to go around. Things seemed to kind of work out where, obviously, you don't want to see anybody get injured. But with Carlos pulling out, I thought Pedro was the worthy choice. Like I said, I'm glad it worked out for him. It seems like he's really excited to do it. I got a chance to text back and forth with him yesterday. It seems like he's excited. Being from New York, I'm sure he'll have a ton of friends and family. I'm excited for him. ...
"There's other deserving players. You look at Philly with Domonic Brown. I mean, no matter what you do, there's going to be somebody that's unhappy. There's going to be a city that's unhappy. But I thought Pedro was very deserving. He was very deserving from the start. I just didn't have enough spots."
Wright originally had selected Michael Cuddyer, along with Bryce Harper and CarGo, over Alvarez.
Wright has justified the Cuddyer pick in part because of their longtime friendship, dating to their childhoods in Norfolk, Va.
"He's a few years older than me, but we grew up a few minutes from each other," Wright said. "He was kind of the first high draft pick out of our area. I really credit him for a lot of scouts discovering that area. This was before a lot of the showcases where you can go be seen. You had to kind of get seen. He brought a lot of scouts to that area. He was kind of that first one -- a first-round pick. I remember the day he got drafted -- they announced it over the school [PA] system, because we were still in school at that time -- and just the excitement and the buzz.
"And then getting a chance to work out with him -- during the offseason we use the same trainer, we'll hit together -- I think he's one of the more underrated players in the game. I'm glad he gets the opportunity to step up, make the All-Star team. It was a pretty easy choice for me to take him to the Home Run Derby as well."
As for Alvarez being from New York being a motivation for selecting him, Wright said: "After talking to him, I knew how excited he was and how much he wanted to do this. I'm glad he was next in line for me to ask. Twenty-three or 24 homers doesn't hurt, either. And then on top of that being from New York, I think it was an excellent choice, to pat myself on the back."