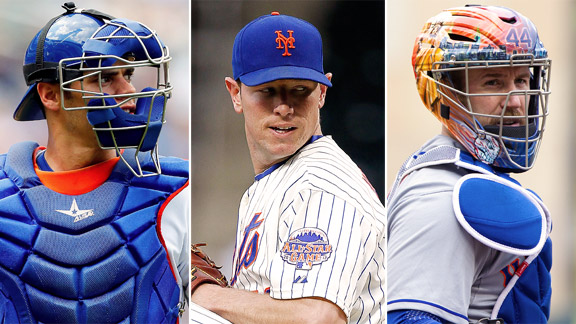 Getty Images
Anthony Recker will catch Jeremy Hefner for the fourth straight time over John Buck.PITTSBURGH -- Terry Collins said he originally had John Buck catching Jeremy Hefner in Friday's series opener against the Pittsburgh Pirates. The manager then switched late to Anthony Recker getting the duty behind the plate.
Pitching coach Dan Warthen recommended the switch, Collins said, because Recker had caught Hefner's past four starts, and Hefner is 3-0 with a 1.73 ERA during that span.
Recker had the opposite thing happen to him in Milwaukee at the start of this road trip. He originally was in the lineup to catch Shaun Marcum, but Marcum requested throwing to Buck and Collins made the switch.
Collins said using Recker on Friday was not an indication he would start two of three games in the Pirates series over Buck. Still, Recker has started to significantly cut into Buck's playing time. After barely seeing any activity early in the season, this will be Recker's fifth start in the past 10 games.
Recker, an Oct. 25 waiver claim from the Chicago Cubs, is only hitting .167. But four of his five homers have either tied the score or given the Mets the lead. Mets pitchers have a 3.22 ERA with Recker receiving, to Buck's 4.12 -- although Buck's success throwing out runners (35 percent) beats Recker's (20 percent).
"They all talked about his power," Collins said about Recker. "I think his defense has come a long way. I think his receiving of the ball is much, much better than what we saw in spring training. He follows the game plan very, very well. I think he receives the ball very good. So I think he's gotten better. I know he works at it. That's probably the biggest improvement I've seen."