PITTSBURGH -- Aarrrrrgh!
Jordy Mercer's two-out single against Gonzalez Germen in the reliever's major league debut scored Andrew McCutchen from second base after a leadoff walk and steal and the Pittsburgh Pirates snapped the Mets' four-game winning streak with a 3-2 walk-off victory in the 11th inning on Friday night at PNC Park.
With Terry Collins leery of using Germen at the major league level, the rookie had made only one appearance since June 29 -- six days ago with Las Vegas.
The Mets had escaped a bases-loaded predicament in the ninth when Gaby Sanchez grounded out to first base against Josh Edgin.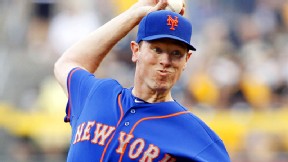 Charles LeClaire/USA TODAY Sports
Terry Collins pulled Jeremy Hefner after seven innings with Hefner's pitch count at 78.
Edgin was the fourth pitcher used by the Mets in the ninth. Scott Rice had inherited runners on the corners from David Aardsma with one out and struck out Pedro Alvarez before turning the ball over to Greg Burke to face Russell Martin, who walked to load the bases.
Edgin also stranded two runners in the 10th.
Kirk Nieuwenhuis had evened the score at 2 with a solo homer in the seventh against Pirates starter Charlie Morton.
Take that, David! Alvarez, initially passed over for the Home Run Derby by NL captain David Wright, belted a two-run homer in the first inning against Jeremy Hefner.
Even though Wright selected Alvarez as the injury replacement for Carlos Gonzalez, fans still lustily booed the Mets third baseman as he was announced for each of his plate appearances Friday at PNC Park.
Wright otherwise had a mostly fine day. He went 2-for-5 to extend his hitting streak to 12 games. Wright's sixth-inning single plated Eric Young Jr. and pulled the Mets within 2-1. Wright did strand two runners in the 10th with a flyout.
Quick hook: Hefner was pulled for pinch hitter Jordany Valdespin with the score tied at 2 to lead off the top of the eighth, even though Hefner's pitch count was only 78.
After Alvarez's first-inning homer, Hefner retired the next 14 batters.
He ultimately trimmed his ERA to 3.33 in the no-decision. His final line: 7 IP, 3 H, 2 R, 2 ER, 0 BB, 3 K.
Hefner has now limited opponents to two earned runs or fewer in eight straight starts. That is the longest streak by a Met since Johan Santana went 13 straight starts spanning the 2008 and '09 seasons allowing two earned runs or fewer.
What's next: Carlos Torres makes his Mets starting debut, after team officials decided to have Matt Harvey skip his final first-half outing. Torres, who has limited opponents to two runs (one earned) in 17 2/3 relief innings since a promotion from Las Vegas, opposes right-hander A.J. Burnett (4-6, 3.05 ERA) on Saturday at 7:15 p.m.
Because of a scoring change from his Tuesday appearance in San Francisco, Torres has not allowed an earned run in his last 12 1/3 innings. Torres' last major league start came Aug. 3, 2010, with the Chicago White Sox. He allowed five runs in six innings in a loss at Detroit.