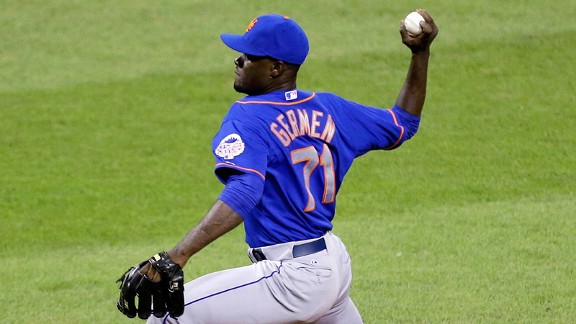 Gene J. Puskar/Associated Press
Gonzalez Germen suffered the loss in his major league debut.PITTSBURGH -- Gonzalez Germen became only the sixth reliever in Mets history to make his major league debut in relief in extra innings.
The other challenge for Germen? Being sharp in the outing.
LATE DEBUTS
Gonzalez Germen became the sixth reliever in franchise history to make his major league debut in extra innings.
Germen had not been used by Terry Collins during two stints with the big league club until entering Friday night's series opener in Pittsburgh in the 11th inning with the score tied.
In fact, Germen had worked only 1 1/3 innings since June 29 -- all in an appearance six days ago with Triple-A Las Vegas at Tucson.
"It was a difficult situation, but I've been throwing sides here and there," Germen said through interpreter/bullpen coach Ricky Bones after surrendering a walk-off RBI single to Jordy Mercer in the Mets' 3-2, 11-inning loss at PNC Park. "I know it's hard, but I've been able to maintain myself in top shape to be ready for when they called."
Germen walked leadoff batter Andrew McCutchen in the inning, which he came to regret. McCutchen stole second base. After a one-out intentional walk to Russell Martin with first base open, Gaby Sanchez struck out. But Mercer then sneaked a ball up the middle to plate McCutchen from second base with the decisive run.
"I walked the leadoff guy with no outs," Germen said, "and the inning got complicated."
As for the final pitch to Mercer, the rookie added: "I think it was a pretty good pitch because it was a ground ball, but the ball was well-located in the middle of the field. No one could catch it."
David Wright agreed.
"The game winner was a good pitch," Wright said. "He just kind of found a hole, one of those seeing-eye singles. The walk ended up hurting him. That was the big thing. After that he settled down. ... But he made good pitches. He struck out Sanchez. Even the game winner was a good pitch. It might have even broken his bat. I was a step over. Q [Omar Quintanilla] was kind of towards me. And it was a 20-hopper up the middle. It was a good at-bat, a good pitch. Sometimes you make good pitches and bad results."
Germen said he was not overwhelmed delivering his first major league pitch to the daunting McCutchen.
"I was facing one of the best hitters," Germen said, "but the main thing I was thinking about was just making good pitches, mixing it up and keeping the ball in the field so we can win the game."