PITTSBURGH
FIRST PITCH: Carlos Torres makes his first start as a member of the New York Mets and the seventh start of his major league career in Game 2 of the series, tonight at 7:15 at PNC Park. Torres (0-1, 0.51 ERA) opposes Pittsburgh Pirates right-hander A.J. Burnett (4-6, 3.05).
Torres, 30, joined the Mets bullpen after a dominating showing as a starter with Triple-A Las Vegas. He had exercised an out in his contract, forcing the Mets to either call him up or release him.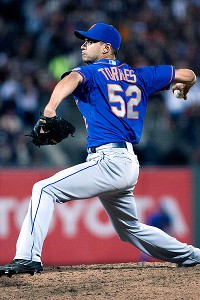 Ed Szczepanski/USA TODAY Sports
Carlos Torres makes his first start for the Mets tonight.
"He came here to give us insurance in the rotation," Terry Collins said about Torres' offseason signing. "When the time came where he had a chance to walk, we called him up. We needed help. We needed help in the bullpen at the time. But he came here as a starting pitcher to give us extra insurance. I applaud what he did out of the bullpen, but we need what he did in Vegas out of that rotation -- seven or eight innings every night. That will help us a lot more than one or two."
Collins said that as impressive as Torres was in Vegas, he arguably was better while pitching in the Rockies organization at high-altitude Colorado Springs in 2012. Torres had a 3.98 ERA in 14 appearances (13 starts) with the Sky Sox.
"Those numbers in Colorado Springs were outstanding in a park where if you've got an ERA below 4.00, you've had a good year," Collins said.
Torres had a miserable Grapefruit League showing with the Mets, but turned it around after reverting to his former mechanics upon landing in Vegas. Torres explained that he throws across his body. He tried during spring training to be more direct toward the plate.
"They suggested the change, and I've actually always wanted to get better direction to home plate," Torres said Friday. "I feel like it would be beneficial. But when it's all said and done, I guess I've been throwing across my body a little too long, so I just kind of went back to it."
Said Collins, contrasting Torres in spring training with now: "His stuff all across the board is better. His velocity is up. His slider is better than we saw. His command is better. … We had never seen him pitch until spring training. We're judging somebody out of spring training when his season last year that he had should have spoke for itself."
Torres pitched two innings apiece Monday and Tuesday in San Francisco, so he did not have an opportunity to get into a starter's mode in preparation for today's turn, which comes in place of originally scheduled Matt Harvey.
"There was no time to get ready and get on a regular routine like a starter," Torres said.
Saturday's news reports: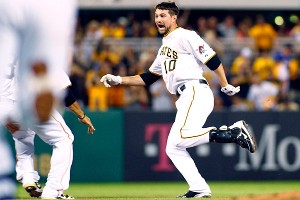 Justin K. Aller/Getty Images
Jordy Mercer celebrates his walk-off RBI single against Gonzalez Germen in the 11th inning.
• Gonzalez Germen, who became only the sixth reliever in franchise history to make his major league debut in extra innings, suffered the loss as Pittsburgh beat the Mets, 3-2, in 11 innings Friday. Jeremy Hefner, despite dominating and a modest pitch count of 78, was pulled after seven innings. Germen pitched in the critical spot in part because LaTroy Hawkins was unavailable due to a triceps issue.
Read game recaps in the Post, Daily News, Star-Ledger, Record, Times, Newsday, Pittsburgh Post-Gazette and MLB.com.
• Even though David Wright added Pirates slugger Pedro Alvarez to the Home Run Derby as the replacement for Carlos Gonzalez, the PNC Park crowd repeatedly booed Wright during the game. Wright tactfully said postgame that he admired the fans' passion.
Writes Mike Vernon in the Pittsburgh Post-Gazette:
David Wright wanted to apologize -- so he sent a text. The recipient: Pedro Alvarez.
In the first part of the text, Wright acknowledged not selecting Alvarez in the initial group of Home Run Derby participants. "Hey look, I apologize I couldn't include you in the first round," Wright remembers texting. "You're well deserving. I wish I could've brought four guys."
The second part of the message is how Wright made up for not initially inviting Alvarez. "He extended the invitation, and I gladly accepted," Alvarez said.
Pirates fans weren't as easy to forgive and forget. Before a pitch was thrown Friday night, fans loudly let David Wright know how the felt about his Home Run Derby decision. When Wright's name was announced in the starting lineup "boos" echoed through PNC Park. An Alvarez home run in the first inning only helped to encourage their angst.
Read more in the Daily News.
• The Los Angeles Dodgers had a scout watching the Mets on Friday, a source told ESPNNewYork.com.
• On the injury front: Travis d'Arnaud is doing everything in Port St. Lucie, Fla., except playing in games. The holdup: He does not always feel comfortable running as he returns from a broken foot. Jonathon Niese has started long-tossing. Frank Francisco appeared for the first time in a while in a minor league game, tossing an inning in the Gulf Coast League, although Collins did not sound eager to predict a return date.
• Harvey threw a bullpen session Friday in preparation for his expected All-Star start, which is due to be announced Monday afternoon. Collins said Hefner, not Harvey, will start the second-half opener next Friday at Citi Field against the Philadelphia Phillies. Read more in the Star-Ledger and Newsday.
• Read more on Torres in the Times, Journal, Star-Ledger, Post and Record.
• Collins is not prepared to use Josh Satin in the outfield, although Satin continues to do pregame drills there.
• Mets minor league right-hander Estarlin Morel was suspended 25 games by Major League Baseball.
• Alex Panteliodis tossed 7 1/3 scoreless innings as St. Lucie beat Dunedin, 3-0. First-round pick Dominic Smith was forced to leave the GCL game after one inning due to dehydration. Read the full minor league recap here.
• All-Star FanFest has opened at the Jacob Javits Convention Center. Read more in the Times and Newsday.
• Richard Sandomir in the Times catches up with participants from the 1964 All-Star Game at Shea Stadium.
• Noah Syndergaard was in Manhattan on Friday in advance Sunday's 2 p.m. Futures Game, which will be televised by ESPN2. Syndergaard is expected to start for Team USA opposite fellow Mets farmhand Rafael Montero for the World Team. Read more in the Daily News.
• John Leland in the Times visits with Brooklyn Cyclones manager Rich Donnelly.
• Dwight Gooden heaped more praise on Harvey to Brian Lewis in the Post.
• Ben Cohen in the Journal examines where to sit during the Home Run Derby to get a souvenir.
• Brian Costa in the Journal reviews the All-Star Game venue, Citi Field. Writes Costa:
For one thing, their attendance is down -- way down. They are averaging just 26,655 fans per game this year, which ranks just 20th in the majors. This for a team that plays in the biggest market in the country, for a team that drew more than twice as many fans in their last season at Shea in 2008.
Four and a half years after they moved into their new digs, the Mets are still in dire need of memorable moments there -- or at least, moments that are memorable for the right reasons. So far they've had one: Johan Santana's no-hitter. But what makes a no-hitter great is also what makes it tricky, for a team like the Mets: No one sees it coming. The announced attendance on Santana's historic night in 2012 was 27,069. The Mets tried to capitalize on the wave of euphoria that followed, but the moment had passed.
Meanwhile, colleague Jared Diamond in the Journal remembers Shea Stadium.
BIRTHDAYS: Former catcher Mike Fitzgerald, who was traded to the Montreal Expos in the deal that brought Gary Carter to Queens, turns 53.
TWEET OF THE DAY:
Mets version of the Chupacabra. RT @AdamRubinESPN Frank Francisco surfaced in the GCL, tossing one inning and allowing one run and one hit.

— D.J. Short (@djshort) July 12, 2013
YOU'RE UP: What will Carlos Torres' line be today in his first Mets start?