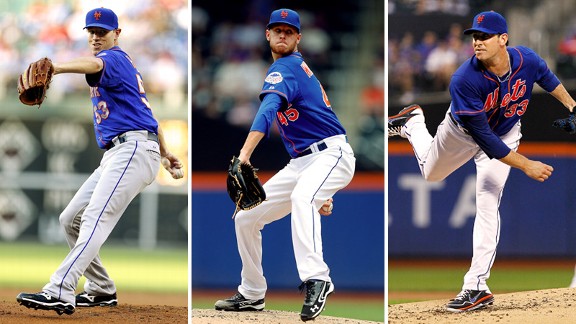 Getty Images
The Mets will open the second half with Jeremy Hefner, Zack Wheeler and Matt Harvey facing the Phillies at Citi Field next weekend.PITTSBURGH -- Terry Collins has announced that Jeremy Hefner will start the second-half opener next Friday at Citi Field against the Philadelphia Phillies.
Zack Wheeler will get the Saturday game and Matt Harvey the Sunday game that series, according to the Post's Kevin Kernan.
Hefner has limited opponents to two earned runs or fewer in eight straight starts. However, the Mets are 3-6 this season when Hefner pitches at least six innings and allows two runs or fewer, according to Mark Simon of ESPN Stats & Information.
Wheeler -- whose innings will be capped at about 180 this season, a 30-inning jump from 2012 -- already has completed his first half, having dominated the San Francisco Giants on Wednesday at AT&T Park. Wheeler has logged 96 2/3 innings this season between the majors and minors.
Harvey should have 14 second-half starts, Collins said earlier this week. The Sunday duty against the Phillies will come five days after his expected All-Star Game start.