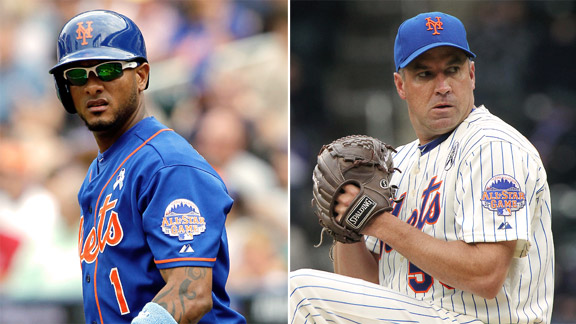 Getty Images
Jordany Valdespin has been demoted. He will be replaced by Scott Atchison.PITTSBURGH -- JV1 has been dispatched to the JV.
The Mets, in need of an extra bullpen arm with their relief corps overtaxed, demoted Jordany Valdespin after Saturday's game. Reliever Scott Atchison will join the Mets on Sunday.
The Valdespin move probably was coming immediately after the All-Star break anyway, with Justin Turner already having started a rehab assignment for a left intercostal strain.
Valdespin, stung and teary-eyed after receiving word, had struck out as a pinch hitter for the second straight day Saturday. He had not started a game since June 22 and was hitting .132 (10-for-76) since May 5.
Valdespin had received a week-long audition at second base after Ike Davis' demotion, but that was quickly abandoned after he went 3-for-23 in a six-game stretch.
"I'll keep working hard," Valdespin said. "I don't know. This happens in baseball. You don't know what they're thinking. You don't know what they thought. The only thing you know is how you play baseball. They said start playing. I'm not playing here. I don't know what's going on."
Atchison has not thrown a pitch in a major league game since May 13.
He initially landed on the DL with hand numbness related to a bone spur in his right elbow. He returned to the Mets five weeks later and was summoned to enter a game. But while throwing warm-up pitches, Atchison injured a groin muscle and was forced back onto the DL. He pitched a no-hit inning Thursday with Double-A Binghamton in his most recent appearance.