PITTSBURGH -- Carlos Torres is not due to reappear in the rotation until July 23, but he can head into the All-Star break satisfied with his first major league start since 2010.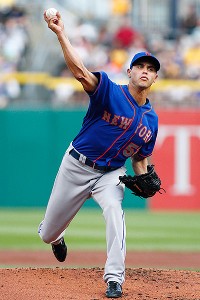 Justin K. Aller/Getty Images
Carlos Torres allowed only one run in five innings in his first Mets start.
Torres tossed four scoreless innings before running out of gas in the fifth. He escaped a bases-loaded, one-out jam by getting Jose Tabata to ground into a double play that inning and departed with a 2-1 lead and his pitch count at 80.
The Mets ultimately lost, 4-2, to the Pittsburgh Pirates as Torres received a no-decision.
Torres had not started a game or pitched more than three innings in five weeks. He acknowledged his pitches starting drifting up in the zone as he struggled to follow through with fatigue setting in. Late in his outing, Torres made his cutter a slider because he could not throw as hard.
"Eighty pitches. I had no clue," Torres said. "I really wasn't going by that. I was just trying to get outs inning by inning. That fifth inning was a brutal one, for sure. ... They were just getting hits left and right. ... I was just a little up in the zone. That's definitely the longest I've gone in a little while."
Torres next is due to face the Atlanta Braves in the fifth game after the All-Star break. Jeremy Hefner, Zack Wheeler and then Matt Harvey are scheduled to face the Philadelphia Phillies at Citi Field. Dillon Gee then will get the opener against the Braves in Queens before Torres' next chance.
The Mets will hold a workout on Thursday at Citi Field before the second half resumes. So it would make sense for Torres to throw some type of simulated game that day. Torres plans to fly into New York the night before that workout.
"I'll be throwing wherever I'm at," Torres said about the All-Star break. "I'm going to see my daughter."