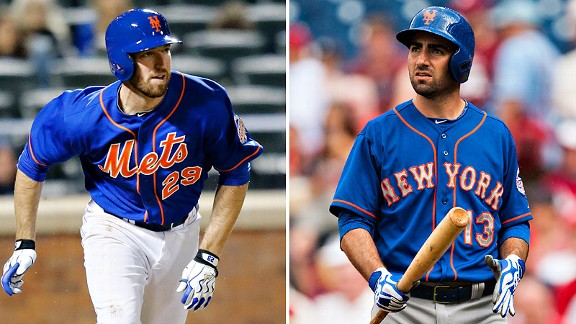 USA TODAY Sports
The Ike Davis-Josh Satin playing time breakdown will be one area to watch in the second half.PITTSBURGH -- Terry Collins was not quite as resolute about Ike Davis remaining the regular first baseman after the Mets completed the first half.
Josh Satin, in only his third start since Davis' return, reached base twice in four plate appearances, while Davis grounded into a double play as a pinch hitter in the ninth.
Davis is 2-for-21 since a three-hit game in his return from the minors at Milwaukee. He has drifted into some familiar habits from before the demotion. Meanwhile, Satin is hitting .361 with a .487 on-base percentage in 22 games at the major league level this season.
"Well, I don't know yet," Collins said about the post-break breakdown of playing time at first base. "Ike came back because everything they told us was he was ready. He was swinging better. He was swinging like he has. I don't know if he was trying too hard. He had a great series in Milwaukee. But, like I said, we're going to get him back out there and we're going to get Josh Satin some at-bats and we'll decide here shortly who is going to be out there on a more regular basis."