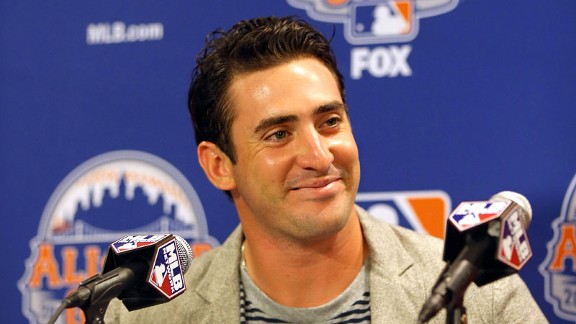 Mike Ehrmann/Getty Images
Matt Harvey was named NL starting pitcher on Monday afternoon.NEW YORK -- Right-hander Matt Harvey's first full season in the majors has been highlighted by three flirtations with no-hitters, New York Mets fans anointing days he pitches as "Harvey Day," and a photo shoot for ESPN The Magazine's "Body Issue." It also will include becoming the first major league pitcher in nine years to start an All-Star Game in his home ballpark.
"Just what a tremendous year he's had," NL manager Bruce Bochy said. "It really wouldn't have mattered what city we were playing in with the year that he's had, the impressive numbers that he's put up, he would have been the starting pitcher."
Harvey, who threw a light bullpen session Sunday in Pittsburgh, should get two innings in the All-Star Game.
David Wright, meanwhile, will bat cleanup for the NL.
"Now if you're the captain of the Home Run Derby you have to hit cleanup," Bochy quipped.
Read the full news story here.