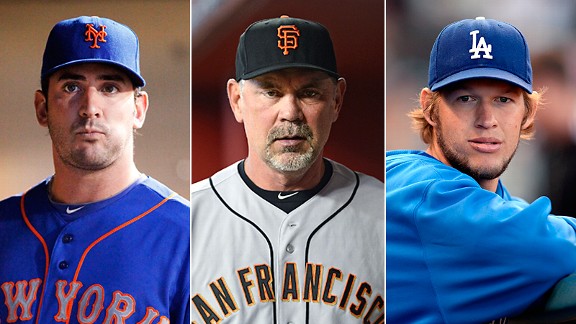 USA TODAY Sports, Getty Images
Matt Harvey's selection by Bruce Bochy did not thrill Clayton Kershaw.NEW YORK -- A week after saying he was fine with Matt Harvey starting the All-Star Game for the National League, especially if it is being played in New York, Dodgers ace Clayton Kershaw did not sound as pleased on the day of the official announcement.
Kershaw did not seem to care for NL manager Bruce Bochy saying Monday afternoon that Harvey would have been the starting pitcher and "it really wouldn't have mattered what city we were playing in" because of Harvey's first-half production.
Said Kershaw, tersely: "That's his opinion."
Would Kershaw have been more understanding if the tipping factor was the game being at Citi Field?
"I get it," Kershaw said.
Kershaw added that he would enjoy starting an All-Star Game.
"It's not a goal. I don't really set goals. I don't have any goals," Kershaw said. "It would be cool. I would like to do it. It would be fun."