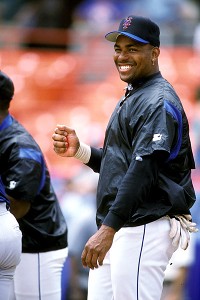 Mitchell Layton/Getty Images
This Bo knows deferred payments.
NEW YORK -- That annual $1.19 million payment Bobby Bonilla receives from the Mets, which has led to mocking of the organization?
It's worse than you thought.
Jon Heyman at CBSSports.com reports the Mets actually have two annual payments owed to Bonilla: the $1,193,248.20 obligation widely known -- plus a second payment of $500,000 shared with the Baltimore Orioles, who absorb just less than half.
The report states the $1.19 annual payment comes from when the team deferred $5.9 million at 8 percent interest from Bonilla's first stint with the team.
The second, previously unreported payment, is related to Bonilla's second stint with the Mets, according to Heyman.
Both are 25-year obligations. The newly revealed one runs through 2028, with the $1.19 million obligation going to 2035.
It had previously been known that the Mets deferred money with Bret Saberhagen as well. That sum, according to Heyman: $250,000 annually for 25 years beginning in 2004, for a total of $6.25 million.