NEW YORK
FIRST PITCH: Matt Harvey Day! In the All-Star Game at Citi Field!
After officially being named the All-Star starter on Monday afternoon by NL manager Bruce Bochy, Harvey is expected to handle the first two innings opposite Detroit Tigers right-hander Max Scherzer.
David Wright will bat cleanup for the NL squad.
The All-Stars will parade across 42nd St. at 1 p.m.
Tuesday's news reports: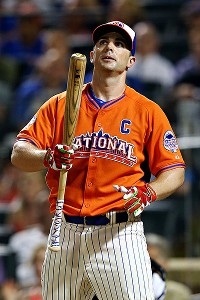 Elsa/Getty Images
David Wright stalled in the first round of the Home Run Derby.
• Wright produced only five homers and had a first-round exit in Monday's Home Run Derby, but the NL captain beamed about the Citi Field atmosphere, likening it to the playoffs in 2006 at Shea Stadium. Pedro Alvarez, who also was eliminated in the first round, said he felt badly about the treatment Wright received in Pittsburgh last weekend. Domonic Brown, snubbed, offered no complaint about being omitted from the event. Read more about the Derby in Newsday.
• Earlier Monday, Wright downplayed playing on an injured foot as the first half closed.
• Jeff Wilpon, while appearing on WFAN, pledged the Mets would spend money next offseason.
"We haven't set a payroll for next year, but I can tell you we're ready to invest with those big contracts coming off the books," Wilpon said, according to Newsday. "We have the money to invest. We're going to invest it prudently. Sandy [Alderson] is going to set a path. There's no predetermined, set way we're going to spend the money, but we do have the money to spend."
• Speaking with the Times during a charity event with MLB, Fred Wilpon addressed a handful of topics:
On Terry Collins: "We all love Terry, who has done a very good job with what we have."
On Alderson: "We haven't turned him down on anything."
On whether the payroll will return to $140 million, like it had been in the past: "I asked Sandy about that. He said he couldn't invest that much money."
• Los Angeles Dodgers ace Clayton Kershaw did not appear thrilled Bruce Bochy said Harvey would have been his choice to start no matter where the game was held. At one point Kershaw told reporters about the starting snub: "It hurts."
• In a very funny skit on "Late Night with Jimmy Fallon," Harvey -- without disclosing his identity -- asked New Yorkers what they thought of him. Watch here.
• Collins acknowledged Harvey will have second-half starts skipped.
• Writes columnist Bob Klapsich in the Record on Harvey:
For one, maybe two innings tonight, Harvey has a chance to pull Mets fans into the organization's time tunnel -- back to 1984 when Doc Gooden introduced himself to the world with a blow-away fifth inning in that year's All-Star Game.
Gooden struck out Lance Parrish, Chet Lemon and Alvin Davis with a fastball that might as well have been shot out of a rifle -- that's how overmatched the American League's sluggers were. Gooden, only 19, was the advertisement of the gathering storm in Flushing, which is why the parallel to Harvey is so striking, even though he's five years older.
Harvey is the Mets' vehicle for legitimacy, smart and articulate and much hungrier for attention than David Wright. It's no sin for the Mets to milk this opportunity for good PR, even if it looks like they sacrificed a chance to take a series from the red-hot Bucs this weekend. Truth is, the choice isn't quite so stark.
Writes columnist David Lennon in Newsday:
Harvey may have blindsided the Mets with the nude layout, and surprised even more people by telling another publication of his post-baseball aspirations to be a movie star -- a full 29 starts into his major-league career.
But there's no need to hang up his spikes first. Look at R.A. Dickey. The knuckleballer released a book, starred in a documentary and won a Cy Young Award in the same season. Don't think Harvey wasn't paying attention.
When asked Monday about his inspiration, guess who Harvey brought up? Dickey, a multi-media darling who prepped for his career year by climbing Mount Kilimanjaro.
"I came up and obviously wanted to do everything I could to fill in for R.A. Dickey," Harvey said. "We knew him not being with us, it was going to take a lot and someone needed to step in. It was a role I wanted to take."
Writes columnist John Harper in the Daily News:
As for Boras, he joked on Monday that Harvey sure is in good company posing naked along with Gary Player, among others, noting that the 77-year-old golfer is renowned for being one of the most disciplined athletes in the world.
Still, a person close to the situation said Boras wasn't thrilled with Harvey's appearance in the magazine. On Monday he said he doesn't make such decisions for his athletes, and chose his words carefully on the subject.
"Each individual athlete has to determine what they want to do when they're approached about that," he said. "All I care about is, you can do what you want off the field but it cannot affect your commitment, your focus, your ability to be ready for the next game."
Read more on Harvey's start tonight in the Post, Times, USA Today, Star-Ledger, Daily News, Journal and Newsday.
• The Mets actually owe Bobby Bonilla more than the originally reported $1.19 million a year. Read more in the Post.
• An ill-timed subway line fire left the No. 7 train without service as the Home Run Derby was letting out. Read more in Newsday.
• Collins spoke openly about Jordany Valdespin acting immaturely in the clubhouse Saturday in Pittsburgh. The manager said Valdespin's biggest mistake may have been having the histrionics with Sandy Alderson as a witness. Valdespin wanted to land on the DL rather than be dispatched to Las Vegas. Read more in the Star-Ledger, Journal and Newsday.
• Wright says Carlos Beltran was underappreciated as a Met. Read more on Beltran in the Star-Ledger.
• Milwaukee Brewers center fielder Carlos Gomez, a first-time All-Star, said Mookie Wilson was a major influence as he was a young player in the Mets system.
• Logan Verrett tossed eight innings and rehabbing Justin Turner went 2-for-3 with an RBI as Binghamton beat Richmond, 7-3. Chris Flexen tossed a shutout as Kingsport swept Burlington. Matt Oberste's RBI double in the 12th lifted Brooklyn past Connecticut, 5-4. Read the full minor league recap here.
• Turner told the Binghamton Press & Sun-Bulletin about the left intercostal strain that landed him on the DL: "I haven't had any setbacks so far. The process, obviously, took a long time. I was down there for a month. It went a lot slower than I was hoping. You get that cortisone shot and I was hoping to respond to it pretty quickly. It's one of those things that it takes time. It's a real small muscle."
• Forbes ranks the Mets as the 45th-most valuable sports franchise in the world. Read more in Newsday.
• The Mets' income at Citi Field continues to nosedive, Newsday reports.
• Charles V. Bagli writes in the Times that Citi Field's neighbors plan a protest today over getting evicted for the development of a mall and other projects to complement the stadium.
• Read a feature on Wright at CBSSports.com.
• From the bloggers … Mets Police caught up with some of the visiting mascots at Citi Field.
BIRTHDAYS: Catcher Norm Sherry was born on this date in 1931.
TWEET OF THE DAY:
Amazing sunset over CitiField for #HRDerby pic.twitter.com/zekYEUgSRC

— Josh Rawitch (@joshrawitch) July 16, 2013
YOU'RE UP: Does Clayton Kershaw have a legitimate beef not starting the All-Star Game?