Center fielder Matt den Dekker has appeared on SportsCenter's Top 10 plays four times during his baseball career between his University of Florida and Mets tenures. A bid for No. 5 led to a fractured right wrist in a March 24 Grapefruit League game and cost him nearly three months.
The lefty-throwing, lefty-hitting den Dekker, 25, suffered the injury on a shot to deep center by Detroit's Austin Jackson, when the center fielder tried to brace his fall with his right hand.
"When they first told me, it was six weeks," den Dekker said about the original estimate of the length of his absence. "I was like, 'That wouldn't be too bad.' But you don't really know how it's going to heal.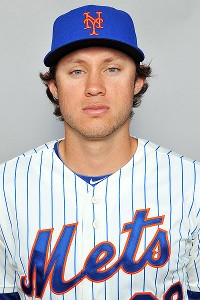 Steve Mitchell/USA TODAY Sports
Matt den Dekker
"When I first got the cast off, I couldn't do anything. I could barely move it for the first two weeks. It was just trying to get the motion back. It took me probably a month to get my motion back. And then I had to start strengthening it and stuff and start hitting. I don't have the full, full rotation and mobility back yet. They said that could be a year or two until you get all that. But there's no pain swinging or anything like that.
"It wasn't necessarily longer than anyone expected. It just kind of takes time. It's one of those things you don't want to rush too much with the wrist. It was just tough being down there so long idle, not doing much. It was my first time being injured."
Den Dekker, after two weeks playing with Class A St. Lucie in the equivalent of spring training, debuted with Triple-A Las Vegas on July 1. He started out 1-for-his-first-25 in the Pacific Coast League, although Wally Backman excused that as still getting up to speed against players in midseason form. Den Dekker since has produced a pair of homers and has four multi-hit games in his past six starts.
"The first couple of weeks were a little 'off,' but I think it's coming," den Dekker said.
Den Dekker figures to be a September call-up once rosters expand, especially since he needs to be added to the 40-man roster this offseason in order to be protected from the Rule 5 draft anyway. His speed allows him to cover a ton of ground in center field, and his diving catches can fill a highlight reel, although Juan Lagares may be a bit more graceful.
Had the injury not occurred, den Dekker's marching orders out of spring training would have been to improve his pitch recognition, make more contact and cut down on his strikeouts. After a midseason promotion to Triple-A last year, den Dekker struck out 90 times in 295 at-bats with Buffalo.
Den Dekker does have a history of adjusting to higher levels in his second experience there (.235 in Binghamton in 2011; ,340 there in 2012). So the expectation is he will again take a leap forward now that he is in his second season in Triple-A.
"It's a matter of finding what works for me," den Dekker sad. "I feel like I've been through so many things with my swing, just changing it back and forth. Once I find that thing that clicks, I've got to stick with that. I think coming into this year I've been seeing the balling well. I've made strides in that way. I still chase some pitches. I've got to work on that."
Den Dekker says he has no hesitation making highlight-reel catch attempts because of the injury.
"I kind of had a ball similar to the one I got hurt on the other day when we were in Salt Lake," he said. "I played it a lot better. I found the wall. When I got hurt, I didn't find the wall and kind of just jumped. I feel like it was kind of a freak accident. I'm usually pretty good when it comes to diving and stuff. So far it's been like normal out there."
As for a bevy of outfielders getting promoted from Triple-A to the majors this year -- including Kirk Nieuwenhuis, Andrew Brown and Lagares -- and missing a chance because of the wrist injury, den Dekker said: "People tell me, 'Oh, you'd be up in the big leagues.' I'm just like, 'Whatever. Things happen for a reason.'
"I mean, it's unfortunate. You can't really think about it that way. I'm glad for the guys that got the opportunity to go up there and play. I keep working. I'm trying not to put too much pressure on myself. I'll be fine. I'll get a chance."
Organization leaders
Average: Victor Cruzado, Kingsport, .362; Jayce Boyd, St. Lucie, .349; Cesar Puello, Binghamton, .331; Kevin Plawecki, St. Lucie, .326; Wilmer Flores, Vegas, .321; Leon Canelon, GCL Mets, .314; Joe Tuschak, Kingsport, .313; Luis Guillorme, GCL Mets, .311; Josh Rodriguez, Binghamton, .311; Jhoan Urena, GCL Mets, .310.
Homers: Dustin Lawley, St. Lucie, 19; Travis Taijeron, Binghamton, 17; Allan Dykstra, Binghamton, 16; Cesar Puello, Binghamton, 15; Wilmer Flores, Vegas, 12.
RBI: Wilmer Flores, Vegas, 75; Dustin Lawley, St. Lucie, 68; Cesar Puello, 62.
Steals: Cesar Puello, Binghamton, 20; Darrell Ceciliani, Binghamton, 18; Alonzo Harris, Binghamton, 16; Stefan Sabol, Savannah, 12; Patrick Biondi, Brooklyn, 12.
ERA: Rob Whalen, Kingsport, 0.89; Gaby Almonte, GCL Mets, 1.69; Rainy Lara, St. Lucie, 2.09; Steven Matz, Savannah, 2.25; Chris Flexen, Kingsport, 2.57; Tim Peterson, Brooklyn, 2.59; Gabriel Ynoa, Savannah, 2.68; Noah Syndergaard, Binghamton, 2.69; Matt Bowman, St. Lucie, 2.72; Miller Diaz, Brooklyn, 2.84.
Wins: Gabriel Ynoa, Savannah, 10; Matt Bowman, St. Lucie, 9; Logan Verrett, Binghamton, 9; Rafael Montero, Vegas, 8; Erik Goeddel, Binghamton, 8.
Saves: Jeff Walters, Binghamton, 24; T.J. Chism, St. Lucie, 13; Bret Mitchell, St. Lucie, 10; Beck Wheeler, Savannah, 9; Hamilton Bennett, Binghamton, 7.
Strikeouts: Rafael Montero, Vegas, 101; Matt Bowman, St. Lucie, 96; Logan Verrett, Binghamton, 92; Noah Syndergaaard, Binghamton, 90.
Short hops
• Wilmer Flores will skip tonight's Triple-A All-Star Game after having to leave Saturday's Las Vegas game with an ankle injury. The Mets will not have a substitute in the Reno, Nev., event.
After primarily playing second base with the 51s this season, four of Flores' past seven starts in the field have come at first base. Terry Collins said he was not aware of any organizational directive to use Flores at first base, but added it makes sense since it is unlikely Daniel Murphy will be dislodged from second base at the major league level anytime soon.
Mets insiders have been highly critical of Flores' range at second base and note he has difficulty getting back to his feet after diving. But Las Vegas observers do say Flores has worked hard and has shown at least moderately improved range as the season has progressed.
• Travis d'Arnaud is due to see a team doctor Monday, after which he should gain clearance to enter minor league games. D'Arnaud last played in a game April 17 with Las Vegas, when he was struck with a foul ball while catching and fractured the first metatarsal in his left foot.
• Left-hander Angel Cuan allowed three runs in six innings in his Double-A debut Tuesday with Binghamton after going 6-2 with a 3.95 ERA in 16 appearances (10 starts) with St. Lucie. Cuan, 24, struck out 64 and walked only 10 in 70 2/3 innings in the Florida State League. The B-Mets have a six-man rotation, with Jenrry Mejia also having stepped in, and with Cory Mazzoni (hamstring) sidelined.
• Right-hander Akeel Morris, a 10th-round pick in 2010 from the U.S. Virgin Islands, has not allowed a run in 17 2/3 innings with the Brooklyn Cyclones this season. Morris is "piggybacking" -- meaning he is working closer to a starter's length on a regular rotation, but not starting the game. He is averaging three innings an appearance. Opposing New York-Penn League batters are hitting .138 against him.
• Cory Vaughn, who hasn't appeared for Binghamton since June 2 due to an elbow strain, is close to rejoining the Eastern League club. Vaughn has appeared in four Gulf Coast League games since mending -- the first two at DH, then a pair in left field.
• Left-hander Steven Matz, the Mets' top pick in the 2009 draft, out of Ward Melville High School on Long Island, has allowed four runs (three earned) in 31 1/3 innings over his past five starts with Savannah -- good for a 0.86 ERA. Matz's pro career initially was slowed by a lengthy rehab from Tommy John surgery.
The Mets selected another left-handed pitcher from Ward Melville High in last month's draft, Anthony Kay in the 29th round, but he apparently is headed to UConn.
• Outfielder John Mora and left-hander Jose Medina were selected to the Dominican Summer League All-Star team.