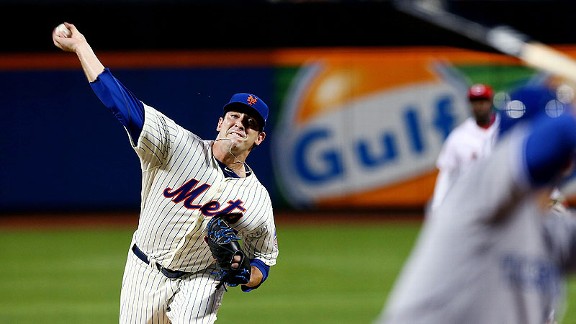 Elsa/Getty Images
Matt Harvey tossed two scoreless innings Tuesday night, in his first All-Star Game.NEW YORK
FIRST PITCH: And now the home stretch of the season.
With the All-Star Game in the books, the Mets have their final full day off of the break Wednesday. They then regroup Thursday for a 5 p.m. workout at Citi Field.
Terry Collins has given David Wright and Matt Harvey off for that workout. Wright particularly needs the rest after dealing with a sore left foot of late, then serving as unofficial ambassador during All-Star festivities.
The Mets open a seven-game homestand Friday, when Jeremy Hefner opposes Philadelphia Phillies right-hander Kyle Kendrick.
Zack Wheeler opposes Cole Hamels on Saturday, while All-Stars Matt Harvey and Cliff Lee match up in Sunday's series finale.
Then come the Atlanta Braves for four games.
With the Mets facing two left-handers against the Phillies, the Ike Davis versus Josh Satin playing time issue should quickly get very interesting.
Wednesday's news reports:
• The National League looked a lot like the regular home team at Citi Field. It mustered only three hits -- one by Wright -- in a 3-0 shutout by the American League on Tuesday night before a Citi Field-record crowd of 45,186. Harvey tossed two scoreless innings, although he drilled Robinson Cano with a pitch, which prompted Harvey to apologize.
Harvey had hit only one of 501 batters he faced during the first half (Michael McKenry of the Pirates). Harvey became the first Mets pitcher with three strikeouts in an All-Star Game since Sid Fernandez in 1986, according to ESPN Stats & Information. Wright finished 1-for-3 and played seven innings at third base.
• Columnist Kevin Kernan writes in the Post about being the driver for Harvey in the All-Star parade Tuesday afternoon across 42nd St. Read more in the Times.
• Read more on Harvey in the Times, Yahoo!, Star-Ledger, Daily News, Journal and Record.
• Read more on Wright in the Star-Ledger, Journal and Newsday.
• An 18-year-old fan wearing a Yankees shirt ended up getting tackled by security and arrested after boasting on Twitter he would enter the field. Read more in the Post and Daily News.
• Fred Wilpon offered a positive review of the first All-Star Game in Queens since 1964.
• Tom Seaver threw the ceremonial first pitch to Wright. "Wright saved me. He caught it when it was in the air," Seaver said, writes Neil Best in Newsday. Read more in the Times.
• In Men's Journal, David Amsden spends a day with Harvey, including a stop at an upscale clothing store frequented by athletes. Writes Amsden:
Harvey strolls into the store and seeks out Gerry, a salesman who dresses most of the athletes that come through.
"We're flying out Thursday, going to Miami," Harvey tells Gerry. "Normally we wear a suit, but this week, Mets management switched it to some sort of white shirt. I want to go all white. Maybe, like, white linen? Freak everyone out a bit." Harvey eyes a linen blazer with about a million buttons running along the seam and a funky, upturned collar -- a baroque garment more befitting a general in Napoleon's army than a ballplayer. "Think I can pull this off?" he asks.
Gerry gently pivots Harvey away from the coat. "Might be a bit much," he says, delicately. "But I think I've got just the thing for you."
• On a light day in the minors, Angel Cuan suffered the loss in his Double-A debut. Justin Turner played shortstop for the B-Mets in his second day rehabbing with the club. Turner went 1-for-3 with a walk and run scored. Read the full minor league recap here.
• Jeff Pearlman on his blog profiles Stephen Keane, the man behind the blog The Eddie Kranepool Society.
• Carlos Beltran in the Post says he could wear a Mets cap in the Hall of Fame.
• From the bloggers … Faith and Fear still has a twinkle in its eyes from the All-Star Game coming to Flushing. ... Metsmerized writes the honeymoon is officially over for Sandy Alderson and he is now on the clock. … MetsMinors.net continues the countdown of its midseason top-25 Mets prospects, with Gavin Cecchini checking in at No. 9.
BIRTHDAYS: Shortstop Roy McMillan was born on this date in 1929.
TWEET OF THE DAY:
@MattHarvey33 = the man!!!! I want to be him!! Love that guy

— Dillon Gee (@DillonGee35) July 17, 2013
YOU'RE UP: Did you appreciate the All-Star Game sendoff for Mariano Rivera, even though you're a Mets fan?