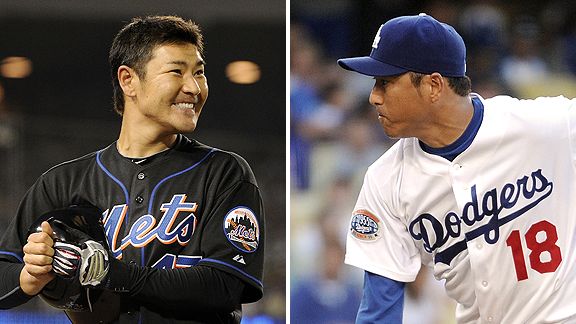 Getty Images
Hisanori Takahashi (left) and Hiroki Kuroda became the sixth pair of Japanese starting pitchers to face off in a major league game.
Hisanori Takahashi faced a make-or-break start in terms of determining whether he would remain in the rotation, manager Jerry Manuel said.
And Takahashi rose to the occasion, despite taking the loss in a 2-0 defeat against the Los Angeles Dodgers on Thursday.
Afterward, Manuel pledged that Takahashi would remain in the rotation to face the St. Louis Cardinals on Wednesday at Citi Field.
Takahashi limited Los Angeles to two runs on three hits and two walks in seven innings, but was outdueled by countryman Hiroki Kuroda, who tossed eight scoreless innings. It marked the sixth time in major league history to Japanese starting pitchers had squared off. The last meeting was Kenshin Kawakami vs. Daisuke Matsuzaka in interleague play on June 19, 2009.
Takahashi, despite playing for the juggernaut Yomiuri Giants in Japan for 10 seasons, had been 0-4 in six starts against Kuroda before both relocated to the major leagues. Kuroda pitched for the Hiroshima Toyo Carp.