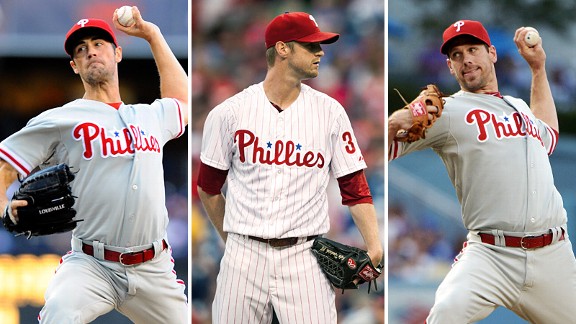 USA TODAY Sports
The Mets face Cole Hamels (Saturday), Kyle Kendrick (Friday) and Cliff Lee (Sunday) in the second-half-opening series.METS (41-50, fourth place/NL East) vs. PHILADELPHIA PHILLIES (48-48, third place/NL East)
Friday: RHP Jeremy Hefner (4-6, 3.33) vs. RHP Kyle Kendrick (8-6, 3.68), 7:10 p.m. ET
Saturday: RHP Zack Wheeler (3-1, 3.54) vs. LHP Cole Hamels (4-11, 4.05), 1:10 p.m. ET
Sunday: RHP Matt Harvey (7-2, 2.35) vs. LHP Cliff Lee (10-3, 2.86), 1:10 p.m. ET
Phillies short hops
• The Phillies are 6-3 but averaging only 3.6 runs a game since losing Ryan Howard to left knee surgery. The debridement surgery is expected to cost Howard six to eight weeks. Rookie Darin Ruf has handled first base in Howard's absence. Ruf slugged 38 homers last season with Double-A Reading. He has reached base safely in 18 straight games at the major league level.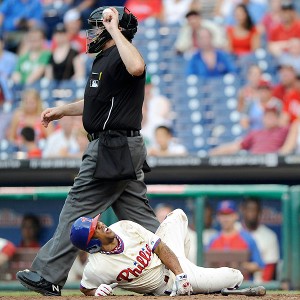 Michael Perez/Associated Press
Ben Revere suffered a broken right ankle on foul ball while batting.
• Center fielder Ben Revere underwent surgery Tuesday for a broken right ankle and also is expected to miss six to eight weeks. It is a big blow to the offense. Revere, the team's leadoff hitter, had been hitting .305 with 22 steals. Revere suffered the injury fouling a ball off the foot. He had two screws inserted.
GM Ruben Amaro has said the Phillies will shop for a fill-in center fielder. John Mayberry Jr. has handled the position the past two games. Prospect Cesar Hernandez has moved from second base to center field in the minors to provide another option.
• First-time All-Star Domonic Brown is third in the National League with 23 homers, trailing Colorado's Carlos Gonzalez (25) and Pittsburgh's Pedro Alvarez (24). Brown's 67 RBIs rank fourth.
• Cole Hamels has a 1.57 ERA with 19 strikeouts and one walk in his last three starts.
• Cliff Lee is the only active left-hander to pitch in four All-Star Games.
• The Phillies could be buyers or sellers depending upon the direction their season takes before July 31. They reached .500 on Sunday for the first time since June 7, when they were 31-31. Before the first-half-closing win, they had spent only five days at or above .500 this season. They have won five of their past six series.
Potentially on the block if things go south: centerpiece players Chase Utley, Jonathan Papelbon, Carlos Ruiz and Lee as well as Delmon Young and Michael Young. Utley and Ruiz are eligible for free agency after the season. Lee is owed a combined $50 million in 2014 and '15, and also has a $12.5 million buyout owed if a $27.5 million club option for 2016 is not exercised. Papelbon is signed at $13 million a season through 2015. He also has a vesting option at that amount for 2016.
• Kyle Kendrick limited the Washington Nationals to one run in seven innings in a win in his last start, despite four errors committed by his fielders, including three by Utley.
• Since June 17, Papelbon has five blown saves in 12 chances. Manager Charlie Manuel told SiriusXM that Papelbon was dealing with occasional hip soreness. Papelbon nonetheless has reached 20 saves for the eighth straight season. That is the longest active streak in the majors and the eighth-longest in major league history. Mariano Rivera holds the record with 15 straight 20-plus save seasons, from 1997-2011.
• Jimmy Rollins has gone 156 at-bats without a homer.
• Infielder John McDonald was acquired from the Cleveland Indians on June 27 for a player to be named or cash.
• Backup catcher Erik Kratz was activated from the disabled list Sunday after missing 4½ weeks with a left knee injury.
• Manuel has 995 career wins. He is due to become the 59th manager in major league history to reach the 1,000-win plateau. There are seven active managers at that level: Dusty Baker, Bruce Bochy, Terry Francona, Davey Johnson, Jim Leyland, Mike Scioscia and Buck Showalter.