NEW YORK -- Jenrry Mejia tossed six strong innings Saturday for Double-A Binghamton, matching his longest outing in more than two years. And a scout in attendance for the performance at New Britain, Conn., offered a positive review.
Mejia allowed a solo homer and only two other hits while striking out eight and walking two. He has a 0.82 ERA in two starts since joining the B-Mets.
"Very good," the scout said. "Plus cutter at 88-90 mph. Fastball velocity was 91-94 mph, which should improve with more innings. The curveball had plus 12-to-6 bend and tilt."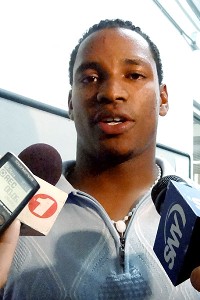 Adam Rubin
Jenrry Mejia looked sharp Saturday against Double-A New Britain.
Said Mejia about his signature cutting movement: "Now it's moving a lot. Sometimes cut. Sometimes sink."
Mejia, still only 23 years old, is one of about four options Mets officials have internally discussed to use when they require an extra starting pitcher later in the week because of a Friday doubleheader in Washington. The others: Chris Schwinden, Rafael Montero and Jacob deGrom.
Schwinden (4-8, 5.70 ERA with Triple-A Las Vegas) is actually lined up perfectly for Friday's spot start, since he is due to pitch today for the 51s. And because he would be viewed as disposable, he could be designated for assignment when the Mets need that 40-man roster spot without concern.
Montero, a Futures Game starter, is the best of the bunch in terms of ceiling. The question would be whether the Mets want to add him now, then potentially have him idle and unusable in September because he has reached an innings cap while still tying up a 40-man roster spot.
DeGrom already has risen all the way from St. Lucie to Binghamton to Las Vegas this season. A college pick in 2010, he would need to be added to the 40-man roster this offseason to protect him from Rule 5 draft eligibility.
Meanwhile, the Mets actually are considering giving Zack Wheeler an extra day of rest and letting him pitch in Friday's doubleheader, with Matt Harvey getting the other game at Nationals Park. If that materialized, that would mean the Mets would need the extra starter on Thursday, and then another extra starter the following Tuesday, since they would not be bringing back Harvey or Wheeler for that start in Miami on short rest.
Mejia, who began working back from injury with a June 29 appearance in the Gulf Coast League, officially remains on a major league rehab assignment and has the benefit of already being on the 40-man roster. He has been on the disabled list since spring training, officially with elbow tendon inflammation. Mejia had made a couple of mid-May appearances with Class A St. Lucie before backing off.
Mejia, whose career has stalled since May 16, 2011 Tommy John surgery, said he is fully healthy now. He added that his cutter is benefiting from his ability to extend his arm more now that he is fully recovered from that procedure.
As for the perpetual debate about whether he ultimately is a starter or reliever, Mejia said: "The surgery is like three years ago. Now I can do any work. Whatever they want me to do, I'll be there."