NEW YORK -- Right-hander Noah Syndergaard still cannot stop raving about his Futures Game experience at Citi Field.
On Friday, he toured Manhattan in a double-decker bus with fellow participants Archie Bradley and Taijuan Walker. He also stopped by MLB's Fan Cave. Saturday, he signed autographs at FanFest at the Javits Center. Then he tossed a scoreless inning Sunday for Team USA at Citi Field, his future home ballpark.
Yet the best experience might have been signing a ball during a lunch stopover at Foley's in midtown. Syndergaard seemed particularly pleased by where the ball is now on display -- between autographs from Katy Perry and Pamela Anderson.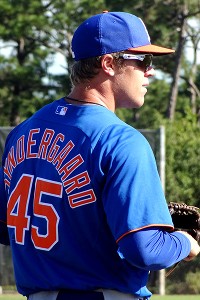 Adam Rubin
Noah Syndergaard enjoyed his visit to New York for the Futures Game.
"It was unbelievable, man," Syndergaard said about his weekend in New York. "That was my first time to the city, and I honestly fell in love with it. ... The stadium is awesome. I hope that will be my future home in the next couple of years or so.
"The biggest city I had ever been to is Chicago. That was still night and day size-wise. It felt like the streets went on forever [in Manhattan]. It was pretty breathtaking walking down Times Square. I went to the Foot Locker there, and it stays open until 2 a.m. I was like, 'What's going on here?'"
The 20-year-old Syndergaard, who hails from Mansfield, Texas, joined the Mets in December along with catcher Travis d'Arnaud and outfielder Wuilmer Becerra for R.A. Dickey. Since a promotion last month from St. Lucie to Binghamton, he is 2-0 with a 2.16 ERA in five Double-A starts.
Syndergaard's fastball has heavy sink. He also throws a curveball and changeup. His slider is a new pitch, so he is still working to perfect the release point and grip.
His velocity mostly has been sitting at 96-98 mph with the B-Mets, a jump from St. Lucie earlier in the season. (He was down to 94-96 mph his last B-Mets start, though.) Terry Collins has suggested the higher level of competition caused Syndergaard to take it to another level, although the prospect also cited a mechanical adjustment.
"I think my arm just feels a little bit better," Syndergaard said. "My last start in St. Lucie I made a little adjustment to my mechanics and I was touching 98 pretty regularly in that start. Instead of being directly over the top, I kind of dropped down a little bit. That allowed me to use my core a little bit more. I started using my legs. [St. Lucie pitching] Phil [Regan] was a big emphasizer on using my legs down there. I tweaked my mechanics a little bit and it's been great ever since. A great adjustment.
"But the adrenaline does help. I feel like I'm probably one of the youngest kids in the league. Playing against guys who have big-league time gets you amped up a little bit."
Syndergaard suggested it has been a smooth transition to the Mets organization. Fellow Double-A pitcher Mark Cohoon is from the same Texas town as him. They had worked out together during the 2011-12 offseason and already were acquainted. Syndergaard also has quickly become friends with 2011 first-round pick Brandon Nimmo, who is currently with low-A Savannah.
"Once the trade went down, I was relieved to know I knew someone in the Mets organization," Syndergaard said about Cohoon.
Syndergaard has experienced a noticeable leap in interest in his career since moving from the Blue Jays to the Mets organization.
"When I was with Toronto, I think maybe I had 1,000 followers on Twitter," he said. "Now I'm up to like 12,000. The fan base is unbelievable. When I went to Citi Field for the Futures Game, there were probably 15 [media] people around my locker at a time. I felt like I handled it pretty well. It was good practice. I definitely needed it, because when the camera got in my face, I sounded like a babbling idiot."
Syndergaard clearly is more comfortable now with the attention than when he first joined the Mets. When a handful of reporters watched his first bullpen session upon arriving at spring training this year, he was nervous.
"Real nervous," Syndergaard recalled. "I mean, my first bullpen. A new organization. I was traded for the Cy Young [winner], so I was just hoping to live up to the expectation."