NEW YORK -- Party on!
Matt Harvey won for the first time in his past 10 home starts and David Wright, Marlon Byrd and Juan Lagares all went deep as the Mets beat the Philadelphia Phillies 5-0 in Sunday's rubber game at Citi Field.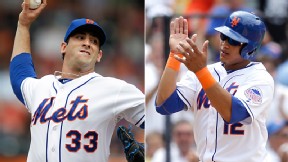 Associated Press
Matt Matt Harvey tossed seven scoreless innings and Juan Lagares hit a three-run homer as the Mets won Sunday's rubber game.Harvey (8-2) had not won at home since April 19. He held the Phillies hitless until Chase Utley's one-out single in the fourth and ultimately limited Philadelphia to three hits and no walks in a 112-pitch effort over seven scoreless innings.
He now has a 2.38 career ERA -- one-hundredth of a point better than Jerry Koosman (2.39) for the franchise record through 30 games (minimum 100 innings).
Harvey struck out the side in the third and fifth innings en route to a 10-strikeout performance. It was his sixth double-digit strikeout game of the season and eighth of his career.
All-Star Cliff Lee (10-4) surrendered a season-high-matching five runs in six innings.
Wright and Byrd became the first Mets to consecutively go deep this season, with their back-to-back shots against Lee giving the Mets a first-inning lead. Lagares then delivered a replay-awarded three-run homer in the fourth as the Mets opened a 5-0 advantage.
Wright went 2-for-4 on the ninth anniversary of his major league debut, against the Montreal Expos at Shea Stadium on July 21, 2004. Lagares matched a career high with three RBIs.
Harvey combined with Scott Atchison on the shutout.
What's next: The Mets welcome the first-place Atlanta Braves for four games. Dillon Gee (7-7, 4.32 ERA) opposes right-hander Julio Teheran (7-5, 3.35) in Monday's 7:10 p.m. opener.