FIRST PITCH: If the Mets are going to make any noise in the National League East -- and that's a major uphill battle despite their recent solid play -- it's now or never.
The banged-up Atlanta Braves visit Citi Field for a four-game series beginning tonight at 7:10, with Dillon Gee (7-7, 4.32 ERA) opposing right-hander Julio Teheran (7-5, 3.35) in the opener.
The Mets, who have 68 games remaining, trail Atlanta by 10 games in the standings. The wild-card deficit behind the Cincinnati Reds is an identical 10 games.
Meanwhile, the Mets may welcome back Justin Turner from the disabled list today. He has been rehabbing most recently with the Brooklyn Cyclones.
Four of Turner's seven starts with Brooklyn and Binghamton have come at shortstop. Terry Collins said he will use Turner at that position once or twice to give Omar Quintanilla a breather.
Read the Mets-Braves series preview here.
Monday's news reports:
• Matt Harvey tossed seven scoreless innings while striking out 10 and walking none and combined with Scott Atchison on a shutout as the Mets beat Philadelphia, 5-0, in Sunday's rubber game at Citi Field. David Wright, Marlon Byrd and Juan Lagares all took All-Star Cliff Lee deep.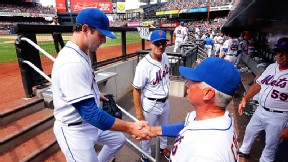 Jim McIsaac/Getty Images
Matt Harvey receives congratulations after tossing seven scoreless innings Sunday.
Wright's next homer will be No. 220, matching Mike Piazza for second on the Mets' all-time list. The leader: Darryl Strawberry, at 252.
Harvey's 2.38 ERA through 30 games is the best in franchise history (min. 100 IP), topping Jerry Koosman's 2.39 as well as No. 3 Jon Matlack (2.54), Dwight Gooden (2.66) and Tom Seaver (2.88).
Among pitchers debuting in the past 30 seasons in the majors, Harvey's ERA ranks fourth-lowest through 30 career starts, according to ESPN Stats & Information. The only better: Scott Erickson (2.16), Hisashi Iwakuma (2.22) and Joe Hesketh (2.33).
Harvey got 23 swings and misses Sunday, one shy of matching his career high. His fastball velocity averaged a career-best 97.4 mph. He went to a 2-0 count on only one batter in the game.
"It's definitely the best we've seen," Phillies manager Charlie Manuel said. "He used all of his pitches. He was aggressive with his fastball. He also threw in and out, up and down, threw to spots -- about everything you have to do. That's good. Real good."
Collins suggested Harvey took the mound angry and was motivated by his dissatisfaction over a Men's Journal portrayal of his social life.
"He should have fun and enjoy himself," Gooden, who attended Sunday's game on his bobblehead day, told columnist George Willis in the Post. "He just needs to remember a lot of things that may not offend some may offend others. You have to understand that you're in New York and your success is going to be under a microscope. I didn't see anything wrong with what he said, but some things you might want to say you have to hold on to."
Read game recaps in the Post, Daily News, Times, Newsday, Star-Ledger, Record, Journal and MLB.com.
• Lagares is hitting .412 (14-for-34) in July. He went 7-for-10 with a homer and five RBIs against the Phillies during the weekend. Regarding what has become a platoon with Kirk Nieuwenhuis, Collins said: "We've played pretty well with what we've been doing, but I think Juan is going to certainly get some playing time against right-handers, too -- not just a platoon thing." Read more in the Post, Record, Daily News and Newsday.
• Michael Salfino in the Journal charts the Mets' record by uniform they've worn.
• Jordany Valdespin went 4-for-6 with a homer and five RBIs and Chris Schwinden may have disqualified himself for consideration for Friday's spot start by allowing six runs in four innings as Las Vegas beat Reno, 15-8. Binghamton had seven doubles in a 5-3 win at New Britain. Dustin Lawley belted his 20th homer in St. Lucie's 7-5 win against Daytona. Read the full minor league recap here.
• The Mets need an extra starter Thursday or Friday, depending upon whether they want to give Zack Wheeler an extra day of rest. The candidates: Jenrry Mejia, who has pitched strongly since his rehab tour has stopped in Binghamton, as well as highly regarded prospect Rafael Montero, Jacob deGrom and Schwinden.
• Byrd's 2.1 WAR is better than Michael Bourn's 1.5, Marc Carig notes in Newsday. The Mets settled for Byrd at a price tag of only $700,000 after the Cleveland Indians landed Bourn as a free agent.
• The consecutive long balls by Wright and Byrd in the first inning marked the first time this season Mets teammates had gone deep back to back. Read more in the Post.
• Tim Marchman in the Journal reviews Wheeler's performance so far.
• The Phillies, now a game under .500, are on the fence about whether to buy or sell at the trade deadline. The Mets taking two of three may have pushed them into the seller category. Read more from columnist Bill Madden in the Daily News.
• From the bloggers … Faith and Fear in Flushing discovers sometimes the baseball gods really do listen. … The Kings of Queens talks Harvey's impact on the Mets' overall future.
BIRTHDAYS: Catcher Rob Johnson, who tossed a scoreless inning in Toronto last season, turns 31. After spending most of the season at Triple-A, he currently is on the St. Louis Cardinals big-league roster.
TWEET OF THE DAY:
That feeling of giving up back to back homers against the #Mets pic.twitter.com/qfbrMGgQSJ

— MLB Memes (@MLBMeme) July 21, 2013
YOU'RE UP: Can the Mets make a run at a postseason berth?