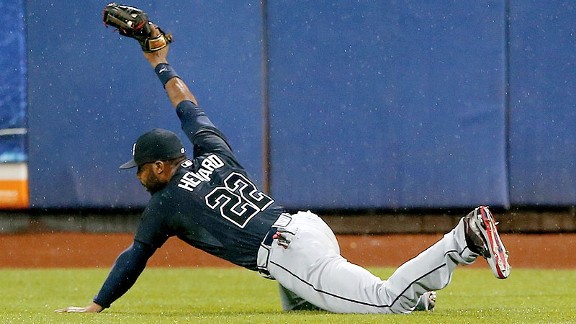 Elsa/Getty Images
Jason Heyward made a game-ending diving catch to strand two Mets on base.NEW YORK -- Justin Turner, Terry Collins and the rest of the Mets thought they had bailed Bobby Parnell out of a blown save.
Jason Heyward had another idea.
Pressed into unfamiliar center-field duty with B.J. Upton on the disabled list, Heyward made a diving catch in the rain in left-center on the pinch-hitting Turner for the final out of Monday's 2-1 Braves win against the Mets, stranding two runners.
"When I hit it off the bat, I thought it was in the gap in left-center," said Turner, who had his first at-bat since getting activated from the disabled list. "He obviously made a helluva play."
Said Collins: "I thought it was going to drop in. I was hoping it would drop in -- with the wet grass maybe skip to the wall and we've got a chance to score two runs."
Turner said he was fully prepared for the pinch-hit opportunity.
"I've been rehabbing for a week, getting at-bats every day," he said. "Actually I got more at-bats in the past seven days than I probably had in the first part of the season."