NEW YORK
FIRST PITCH: Zack Wheeler, who tossed six scoreless innings in his major league debut at Turner Field in Atlanta, albeit with five walks, gets another crack at the Braves in an early start this afternoon.
Wheeler (3-1, 3.58 ERA) opposes rookie left-hander Alex Wood (0-2, 2.45) as the Mets look to salvage a split of the four-game series. First pitch: 12:10 p.m.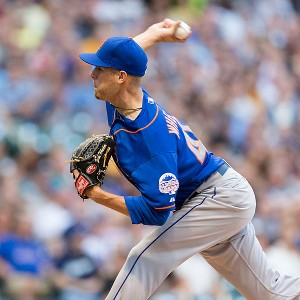 Tom Lynn/Getty Images
Zack Wheeler pitches on turn, despite recently dealing with a blister issue.
The Mets earlier this week debated delaying Wheeler's start a day to allow a blister to further heal, but ultimately decided it was a nonissue and kept him on regular rest. Wheeler has dealt with blister issues throughout his pro career -- both as a San Francisco Giants farmhand and with the Mets.
Wood steps in for fellow southpaw Paul Maholm, who landed on the disabled list on the eve of the series with a bruised wrist.
With the Mets facing a left-hander, Josh Satin should start at first base and Juan Lagares in center field. Justin Turner also is due for his first start since returning from the disabled list.
Terry Collins planned for Turner to be used at a middle-infield position, but Turner might start at third base if David Wright needs a day for a sore back/neck. Wright inadvertently hit himself with the shattered bat during his own swing in the fourth inning Wednesday night.
Thursday's news reports:
• The Texas Rangers are scouting Marlon Byrd among a bevy of outfield options, writes CBSSports.com. Alex Rios of the Chicago White Sox appears Texas' primary target, according to the report. Writes Jon Heyman:
Ideally, Texas would have loved to make a run at young Marlins superstar Giancarlo Stanton, Hunter Pence (a local, being a U-T Arlington product) or perhaps Michael Cuddyer, but with those three apparently unavailable at the moment, the Rangers are surveying a market that's heavy on far lesser talents. Pence would seem to have the best chance to be traded of those three, and Texas would target him if he becomes free. Nolan Ryan is said to be a fan.
Seattle, which has Raul Ibanez, Kendrys Morales and Michael Morse, isn't ready to trade anybody yet. And most believe they'll ultimately keep at least Ibanez and Morales now that they are showing decent signs of life. …
The Rangers reportedly have looked at Norichika Aoki, as well, and Danny Knobler reported they are scouting Marlon Byrd, their former player. Other outfielders who could go in trades include Justin Ruggiano, Chris Denorfia, Nate Schierholtz and Alejandro De Aza.
• Tim Hudson suffered a gruesome fracture of his right ankle when he was stepped on while covering first base by runner Eric Young Jr. on Wednesday night. Hudson had taken a scoreless effort into the eighth inning when the injury occurred.
"I saw them get tangled up," Dan Uggla told the Atlanta Journal-Constitution. "I was just hoping he Charley-horsed him or something. I didn't see the extent of it. Once I saw Huddy's reaction, I was like, 'Oh, no. This isn't good.' …
"He was kind of in disbelief, obviously in a lot of pain. You could see just the thoughts going through his head, 'This can't be happening. … This is unbelievable.' That sort of thing. I know he was in a lot of pain."
Young expressed remorse for what happened.
"I'm hustling down the line like I always do, going for the base," Young said. "I saw his foot, as I'm going for the base, right there in the middle, as I came down, I knew I didn't get any of the base. I know I got all of his foot. I pretty much knew it was probably broke right as I did it, and that's why I sprinted right back to him and tried to console him as much as I could and apologize.
"I was able to see Tim before they took him to the hospital. He told me it wasn't my fault, just one of those freak plays that happened."
Read more on the injury and reaction in the Post and Daily News.
• Evan Gattis, Uggla and Andrelton Simmons all homered against Jeremy Hefner as the Braves beat the Mets, 8-2 at Citi Field. Hefner surrendered six runs (five earned) in 4 1/3 innings. He became the first Mets pitcher to allow three homers in a home game this season. Hefner has allowed 13 earned runs in 6 1/3 innings over his past two starts. Daniel Murphy had two doubles, but also committed two errors.
Columnist John Harper in the Daily News summarizes the night.
Read game recaps in the Post, Newsday, Star-Ledger, Record, Times and MLB.com.
• Read more on Wright's status after getting struck with his own bat in the Star-Ledger and Daily News.
• Lucas Duda and Travis d'Arnaud returned to game action for the first time Wednesday, in the same Gulf Coast League game. D'Arnaud went 1-for-3 and caught five innings in his first official action since fracturing the first metatarsal in his left foot on April 17 with Triple-A Las Vegas.
Duda, who landed on the DL with an intercostal muscle strain on his left side after a June 21 game, went 0-for-2 with a walk. He played five innings in left field. It would have been far more noteworthy because of the implications for Ike Davis if Duda had played first base, but that was not the case. Read more in the Post.
• Jonathon Niese, on the DL with a shoulder issue, is ready to pitch in a Gulf Coast League game this weekend or shortly thereafter. He likely will need multiple rehab starts before returning, so rejoining the Mets in mid-August is most likely. Read more in the Star-Ledger.
• Jenrry Mejia joined the Mets in advance of Friday's start opposite Jordan Zimmermann in Game 1 of a doubleheader at Nationals Park. Matt Harvey opposes Ross Ohlendorf in the nightcap that day. The other matchups that series: Dillon Gee versus Dan Haren on Saturday and Carlos Torres versus Taylor Jordan on Sunday.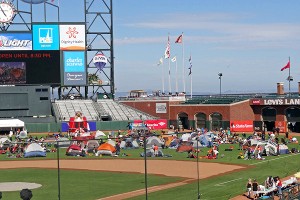 Adam Rubin
The San Francisco Giants annually host a sleepover for fans on the night of a day game at AT&T Park.
Mejia told Jorge Castillo in the Star-Ledger that he has bone spurs in his right elbow that will need to be surgically removed during the offseason. Doctors proposed removing them during spring training when the issue first flared up, but Mejia preferred taking anti-inflammatory medication to get through the discomfort and to deal with it after the season. Read more in the Journal and Record.
• Matching an event annually staged at San Francisco's A&T Park, the Mets will host a sleepover for fans at Citi Field on Aug. 10. Unlike with the Giants, it will not occur the night of a home day game. Tickets, which range $175-$200 per person and include admission to the Sept. 28 game against the Milwaukee Brewers, go on sale at 10 a.m. today at Mets.com/sleepover. The Mets also announced PR man Jay Horwitz bobblehead day will be held Aug. 23. There's also a Third Eye Blind concert after that game against the Detroit Tigers.
• Columnist Larry Brooks in the Post suggests the Mets are laying the groundwork for a brighter future.
• Mark Cohoon became the all-time innings-pitched leader in Binghamton history and closer Jeff Walters matched Jerrod Riggan's B-Mets single-season record with save No. 28 in a 6-3 win against Reading. Read the minor league recap here.
BIRTHDAYS: Billy Wagner, now spending time with his alpacas, turns 42. … Where's Mota? Guillermo Mota is celebrating his 40th birthday.
TWEET OF THE DAY:
Join me at Mets Social Media Night Aug. 23 @ Citi Field & receive my Bobblehead. For tix visit http://t.co/TcCIqXZaAZ http://t.co/x5n8fXXm65

— Jay Horwitz (@Jay_HorwitzPR) July 24, 2013
YOU'RE UP: Should the Mets hold onto Marlon Byrd unless overwhelmed by a trade offer?