NEW YORK -- Zack Wheeler did not duplicate the six scoreless innings he tossed at Turner Field in his major league debut on June 18. In reality, his outing today was an unremarkable showing. Yet Wheeler received the win as the Mets earned a split of a four-game series with the Atlanta Braves.
Wheeler surrendered homers to Dan Uggla and Freddie Freeman, but the Mets nonetheless produced a 7-4 win on an atypically chilly July afternoon at Citi Field.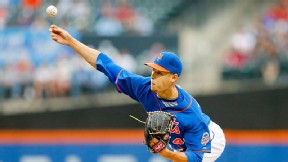 Jim McIsaac/Getty Images
Zack Wheeler logged six innings Thursday and improved to 4-1.
A half-inning after Freeman's solo homer in the sixth evened the score 4-4, the Mets answered with three runs against reliever Kameron Loe.
Daniel Murphy's single plated Andrew Brown with the go-ahead run. David Wright followed with a disputed RBI triple as the Mets took a two-run lead. John Buck then notched his third RBI of the game with a run-scoring double. Murphy finished 3-for-4.
With the series split, the Mets leave for Washington in the same position as when the Braves series began -- 10 games behind division-leading Atlanta. But now the Mets (45-53) have 64 games remaining in their season.
Wheeler's line: 6 IP, 4 H, 4 R, 3 ER, 2 BB, 5 K, 2 HR, 1 HBP, 1 WP. He threw 95 pitches, including 31 to navigate the first inning.
Ouch: Eric Young Jr. left the game after three innings with right knee pain, possibly related to his contact with Tim Hudson on Wednesday. It was Brown, Young's replacement, who had the leadoff double in the bottom of the sixth and scored on Murphy's single for a 5-4 lead.
Outta here: Braves manager Fredi Gonzalez was ejected in the sixth, although he actually was in the right in the dispute. Wright was credited with an RBI triple in the Mets' three-run frame. In reality, the ball bounced up and hit the railing above the left-field wall, which should have made it a ground-rule double and prevented a run from scoring from first base.
What's next: The Mets head to D.C. for a three-day, four-game series against the Washington Nationals. Jenrry Mejia makes his season debut for the Mets in the Friday afternoon game opposite Nats right-hander Jordan Zimmermann (12-5, 3.01 ERA). Mets ace Matt Harvey (8-2, 2.23) opposes right-hander Ross Ohlendorf (2-0, 2.03) in Game 2 of the day-night doubleheader.