WASHINGTON -- Ya not gotta believe this: With a win tonight with Matt Harvey on the mound, the Mets can grab a share of third place in the National League East.
Daniel Murphy slugged two homers and produced a career-high-matching five RBIs and spot starter Jenrry Mejia tossed seven scoreless innings in his first major league appearance since the final week of last season as the Mets pulled within a game of the Washington Nationals with an 11-0 win in the opener of a four-game series.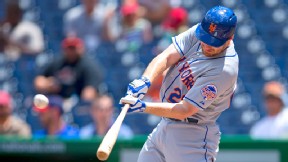 Evan Vucci/Associated Press
Daniel Murphy connected on two homers in Game 1 on Friday.With the Friday afternoon victory at Nationals Park, the Mets climbed to seven games under .500 for the first time since May 30. They exclusively have occupied fourth place in the division since May 11, but that can change with Harvey pitching on the one-year anniversary of his major league debut in the nightcap of the split doubleheader.
On July 26, 2012, Harvey struck out 11 in 5 1/3 scoreless innings and earned the win against the Arizona Diamondbacks in his major league debut.
The free-falling Nats (49-54) have lost seven of eight games since the All-Star break.
The Mets (46-53) are an NL East-best 21-13 since June 18, the day of that Harvey-Zack Wheeler doubleheader in Atlanta.
Oh, Danny Boy: Murphy finished 4-for-5 and produced his second career two-homer game. He had a solo shot in the first inning and a two-run shot in the third against Nats starter Jordan Zimmermann to stake the Mets to a 3-0 lead.
Murphy's first long ball traveled a career-high 444 feet. It was the longest homer at Nationals Park this season, ESPN Stats & Information calculated. Murphy's second homer measured 355 feet, the second shortest at the D.C. stadium in 2013.
His other two-homer game came June 27, 2012, at Wrigley Field during a 17-1 rout of the Chicago Cubs.
Juan Lagares (3-for-4, walk, two steals) singled in the seventh to plate Anthony Recker for a 4-0 lead. Murphy drove in Lagares with a single against reliever Fernando Abad.
Murphy also had an RBI single and Ike Davis belted a three-run homer in the Mets' six-run ninth. Davis produced his first homer since June 2 -- pre-demotion.
The Mets produced their largest shutout win since June 24, 2009, against the St. Louis Cardinals.
Oh, Jenrry: Mejia limited Washington to seven hits and zero walks in seven scoreless innings. It was his longest pro outing since Aug. 30, 2010, with Triple-A Buffalo, when he logged eight innings the season before undergoing Tommy John surgery.
Mejia threw 97 pitches Friday. He retired 11 of the final 12 batters he faced.
The biggest threat against him came in the first inning, when the Nats had runners at the corners with one out after a broken-bat single through the right side of the infield by Ryan Zimmerman. Mejia responded by striking out Adam LaRoche and coaxing a groundout to second base from Jayson Werth.
What's next: Harvey (8-2, 2.23 ERA) opposes Nats spot starter Ross Ohlendorf (2-0, 2.03) in the 7:05 game tonight.