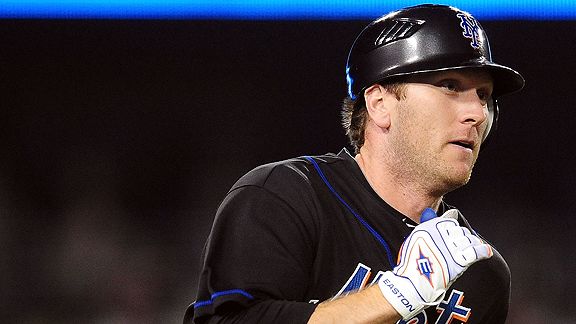 Gary A. Vasquez/US Presswire
Jason Bay had been benched Thursday. He took early batting practice, then had a solid game in his return, while batting seventh.
Jason Bay made a highlight-reel catch, then gave himself further reason to feel good about his performance Friday.
Bay, who was benched Thursday because of hitting woes, snapped a streak of 10 straight games without an RBI when he had a three-run double to the right-center gap in the eighth inning that capped the scoring in the Mets' 6-1 victory against the Dodgers.
During an extra-help session on the field in the early afternoon at Dodger Stadium, Bay had worked to modify his stance. At the start of his swing, the bat is now on his shoulder. That eliminated some early extra movements that had caused his swing to become disjointed.
The swing itself is largely unchanged -- just the starting point.
"It helped with the timing," said Bay, who was 2-for-4. "I wasn't getting the rhythm of my hands and my feet to work. … I just kind of put the bat on my shoulder to start, and once you get going they end up where they end up without all this other [extraneous] stuff. It sounds simple/stupid. I had never done it before.
"I did it in early BP. I went in the cage and did it for 10 minutes. I did it in BP. And it felt good when I got it right. And I was like, 'What have I got to lose?'
"We were just kind of doing a drill that involved [putting the bat on the shoulder]. I was like, 'I need to recreate that,' because I feel like that's getting me in the position I need to be in. Before, I couldn't get in the position I wanted to. I was always in-between -- late or early or whatever it was."
As for his inning-ending catch in the second, Bay suggested his slamming against the wall looked worse than it actually was. He banged his left knee on the chain-link fence. He also hyperextended his back. Bay was pulled for the final two innings after the Mets took a five-run lead, but the left fielder said he did not ask to be removed and suggested playing Saturday would be no problem.
"It kind of hyperextended. It's not really a normal way you get contorted," Bay said about his back. "Luckily, it was chain link or I might still be out there."
Omar Minaya, who was in attendance, indicated afterward that some Mets scouts actually viewed Bay as a plus defender when they had discussions about signing him during the winter, despite what Bay's reputation might have been.
Understandably, Bay acknowledged he was a little tentative in the third inning when he pursued a fly ball that dropped in foul territory near the side wall.
"I'm not going to lie. I was a little skittish -- just not really knowing where the wall was and what had just transpired an inning before," Bay said. "There was a tiny bit of apprehension there."