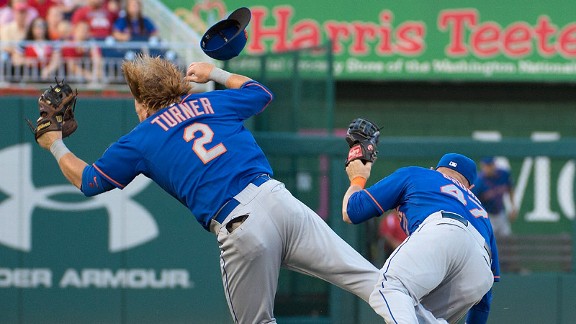 Harry E. Walker/MCT
Justin Turner ultimately left Game 2. He collided with Andrew Brown in the first inning.WASHINGTON
FIRST PITCH: Better late than never for Jenrry Mejia, the one-time hyped prospect who has been derailed by injuries, including Tommy John surgery on May 16, 2011.
After Mejia's stellar season debut Friday, LaTroy Hawkins said: "That's the first time I saw him pitch. Man, I heard that his ball moves like a DUI drunk. But I got a chance to see it today and I was really impressed."
Opined Matt Harvey: "I don't think he had a walk. That was huge for him to go seven innings and do what he did. It was fun to watch. He's got nasty stuff, that's for sure."
Meanwhile, after splitting Friday's pair of games with a disappointing ending to the nightcap, the Mets send Dillon Gee (7-7, 4.07 ERA) to the mound Saturday at 3:05 p.m., in a game televised by Fox. Gee opposes right-hander Dan Haren (4-11, 5.79).
Saturday's news reports:
• Mejia dominated the troubled Nationals for seven scoreless innings and Daniel Murphy slugged two homers and produced five RBIs as the Mets shut out Washington, 11-0, in the matinee of a day-night doubleheader.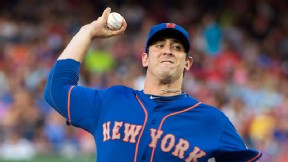 Harry E. Walker/MCT
Matt Harvey received a no-decision despite allowing no earned runs.
The Mets, though, could not win for Harvey in the nightcap. Hawkins surrendered a walk-off homer to Ryan Zimmerman in the ninth and Washington salvaged a split with a 2-1 win. Harvey limited the Nats to one unearned run in eight innings. He failed to win a game for the seventh time this season in which he allowed one run or fewer. Only Roger Craig (eight, in 1963) has more such instances in a season in franchise history. Murphy, a Game 1 hero, said his error that led to the unearned run "cost us the ballgame."
The Mets could have moved even with Washington for third place and to within a half-game of second-place Philadelphia with a Friday sweep.
Read game recaps in the Post, Daily News, Journal, Times, Star-Ledger, Record, Newsday and MLB.com.
• Mejia will stay at the major league level as the Mets plan to employ a six-man rotation. That will allow team officials to somewhat curtail the innings of Harvey and Zack Wheeler, who face caps. Harvey is up to 145 innings this season, leaving him roughly 75 remaining. Wheeler is at 107 1/3 innings between the majors and minors, leaving him about 72 innings. Read more in the Star-Ledger and Newsday.
• Kirk Nieuwenhuis was demoted to Vegas after Friday's nightcap, leaving the Mets with a four-man bench. That signals Eric Young Jr. is healthy enough to be back in the lineup after sitting out Friday's games with a sore right knee. Nieuwenhuis had been hitless in his final 15 at-bats, and Terry Collins had anointed Juan Lagares the regular center fielder earlier in the day. Read more in the Star-Ledger, Daily News and Newsday.
• Can the Mets can make a run at a playoff berth? Friday's split did not help. The Mets actually lost ground. They are 10½ behind the Atlanta Braves in the division and 11 games back of the Cincinnati Reds for the second wild-card spot. Sixty-two games remain.
"We'll have to play a lot better -- a lot more consistent," Hawkins told Mike Puma in the Post. "But I was with the Rockies when we had that unbelievable run, we had the unbelievable September, so you never know. We've got to go play the Marlins, and they're very tough against us. I've been on a lot of teams and there's always one team that's your nemesis. There is always that one team."
• The Nationals demoted former closer Drew Storen to Syracuse late Friday, leaving teammate Tyler Clippard to express his displeasure. Storen once had 43 saves in a season, but had the rocky Game 5 of the NLDS last October. The Nats then went out and signed Rafael Soriano during the offseason.
"You basically send a guy a message this offseason for having one bad game -- that he's not the guy for the job," Clippard told Nats beat writers, according to The Washington Post. "He's only human. It's going to get to anybody. … Eight months later, you get to a point where he's struggling, and you turn the page on him and you send him down. It's not necessarily turning the page on him, because I think he needs to regroup and get out of this environment and take a deep breath and regather himself. I just think it's been handled very poorly."
• Justin Turner was forced to leave Game 2 after his shoulder and leg tightened. Turner had collided with Andrew Brown on a first-inning catch in shallow left field. Read more in the Post.
• Read more on Lagares in the Star-Ledger.
• Read more on Murphy in the Record.
• Jordany Valdespin went 4-for-4 and drove in all three runs, but Sacramento beat Las Vegas, 9-3. Jeff Walters set a Binghamton single-season saves record as the B-Mets split a doubleheader with Trenton. Read the full minor league recap here.
• Travis d'Arnaud (foot) and Lucas Duda (side) played full games Friday for the first time in the Gulf Coast League, in their third games with the club. Duda only served as the DH.
• Jeff Wilpon's son Bradley, a right-handed pitcher, has committed to play baseball at the University of Pennsylvania, according to a source.
• From the bloggers … Rising Apple looks at Mejia's journey since 2010.
BIRTHDAYS: Nobody to appear in a game for the Mets celebrates a birthday today, but almost 24-plus-one-Met Alex Rodriguez turns 38. And Mets first-base coach Tom Goodwin turns 45.
TWEET OF THE DAY:
Since games ended 5/24, #Yankees (25-31) have worst rec in AL East, #Mets (29-26) have best rec in NL East #shipspassinginnight?

— Joel Sherman (@Joelsherman1) July 27, 2013
YOU'RE UP: Do you approve of the six-man rotation concept? Or do you want to maximize Matt Harvey and Zack Wheeler's starts?