WASHINGTON -- The Mets have set their new six-man rotation, which may allow Matt Harvey and Zack Wheeler to complete the season without getting shut down.
Each has an estimated 70-75 innings remaining.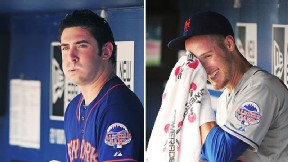 Getty Images
The six-man rotation could get Matt Harvey and Zack Wheeler to the end of the season without reaching an innings cap.
After Jeremy Hefner pitches Monday and Wheeler pitches Tuesday, Jenrry Mejia will pitch Wednesday and Harvey will go with an extra day of rest on Thursday in Miami.
Dillon Gee and Carlos Torres first complete the weekend series in D.C.
As for getting Harvey and Wheeler to the end of the season without being shut down due to an innings cap, Terry Collins said: "Right now, if you pencil it out all the way through, Matt has about 10 more [starts]. So we should be able to spread those innings out to let him go out to pitch and be OK."
Collins added that the six-man rotation might be abandoned if the Mets chip away at their deficit in the race for a postseason berth. The Mets enter Saturday's play 10½ games behind the Atlanta Braves in the division and 11 games behind the Cincinnati Reds for the second wild card.
"I think it's too early to determine how far we're going to go out with it," Collins said. "It all depends what happens here, my guess, in the next two to three weeks. If we continue to play pretty good, you look up and you're five or six out, we'll have to determine what our next move is."
The six-man rotation requires a four-man bench, at least with seven relievers. The Mets currently have an all-righty bench with Justin Turner, Josh Satin, Andrew Brown and Anthony Recker, although Collins said Satin and Turner can hit righty pitching. Collins added the Mets are prepared to be shorthanded in position players for at least a little while.
"We're going to sustain it for a little bit," the manager said. "Mejia is going to pitch again, so we'll get through that. And then after that we'll see where we are."
At some point, even if the six-man rotation is sustained, someone will need to get bumped. Rehabbing Jonathon Niese logged two innings in the Gulf Coast League on Saturday morning. He will need multiple additional minor league appearances before being activated from the disabled list.
"I don't know how many more he's got to go," Collins said. "I mean, we've got to get him up to where there's some endurance there. The one thing we don't need is to have a pitcher come here right now at this time of year and be a five-inning guy. So we've got to make sure he builds up his pitch count to where we know he can at least go 100."