WASHINGTON -- Terry Collins echoed publicly what team officials recently have expressed privately: The Mets, while not ruling anything out, do not expect to make a trade before Wednesday's 4 p.m. non-waiver deadline.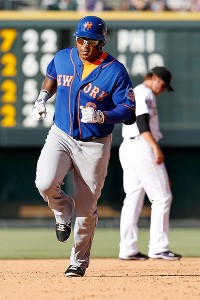 David Zalubowski/Associated Press
Marlon Byrd is the Mets' most logical trade chip, but Terry Collins expects the team to remain intact after Wednesday's non-waiver deadline.
"You look at our team, and right now we've got some guys that are playing good," Collins said Sunday morning. "And I don't know what's going to happen the next three days. ... If I was a team that was in a hunt, who had a couple of holes, I'd go searching and we've got some guys. But from everything I'm hearing right now, there's no reason to think we're going to change."
A team insider told ESPNNewYork.com there has been little trade dialogue with other teams of late. That strongly suggests no player under the Mets' control beyond this season -- say, Bobby Parnell or Daniel Murphy -- would get traded. That's because those trades usually require more groundwork, and nothing substantive of yet has been laid.
As for a player in the final year of a deal, such as Marlon Byrd, a trade is at least still plausible, although not expected. The scenario would be that the Mets get approached late, say, by the Texas Rangers if they were to fail to acquire someone who is more of a priority, like Michael Young from Philadelphia.
But a Mets insider seemed pessimistic that type of scenario would materialize with the Rangers. The source said the Mets have not had an easy time in the past dealing with Texas because of disagreements over the value of certain Rangers prospects.