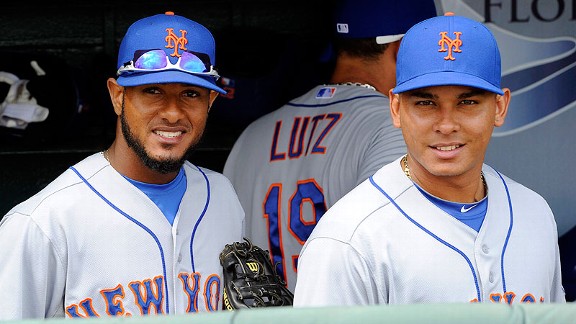 Mike Janes/Four Seam Images/AP Photos
Jordany Valdespin and Ruben Tejada look like they're staying with Las Vegas for a while.MIAMI -- Terry Collins offered no indication Jordany Valdespin or Ruben Tejada is close to rejoining the Mets, despite each putting up solid numbers at Triple-A Las Vegas.
Valdespin, the reigning Pacific Coast League Player of the Week, is hitting .500 (22-for-44) with two homers and 21 RBIs in 11 games.
Tejada is hitting .337 (33-for-98) with eight RBIs in 24 games.
Collins said the priority is a six-man rotation to limit the innings of Matt Harvey and Zack Wheeler. And that requires only a four-man bench. So, conceivably, neither Valdespin nor Tejada may return until rosters expand Sept. 1.
"I've seen reports. I know he's hitting good," Collins said about Valdespin. "There's no real formula for when he may be back or what he has to do to get back. He's doing exactly what he's supposed to do, and that's play as well as he can play. In our situation, where we're looking at trying to maintain a six-man rotation, it's about the health of Matt Harvey and Zack Wheeler. So he might have to ride it out for a little while."