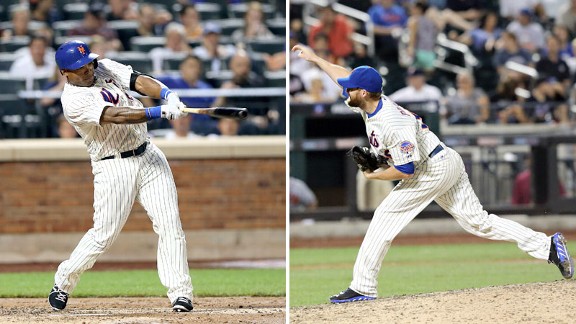 Getty Images, USA TODAY Sports
While not cemented, the distinct likelihood is Marlon Byrd and Bobby Parnell remain Mets after the trade deadline.MIAMI -- The New York Mets will continue to accept inquiries about Marlon Byrd and Bobby Parnell in the next 24 hours or so, until the non-waiver trade deadline passes at 4 p.m. ET Wednesday. Still, a team insider reiterated Tuesday morning to ESPNNewYork.com, the deadline is expected to pass with the roster remaining intact.
The Mets have not received inquiries on any players other than Byrd and Parnell, according to the source. And while a trade is not out of the question, both of those players are expected to remain unless the Mets are bowled over -- or, as the source said: "Unless somebody comes out and really needs something, versus wanting something."
"Why do it?" the source added. "There's no financial reason. There's no baseball reason."
That is, unless the Mets are bowled over.
Byrd is making only $700,000 this season. Parnell, who is under the Mets' control through the 2015 season, is making $1.7 million.
Sandy Alderson at one point had suggested the Mets might be aggressive at the trade deadline; they were possibly interested in acquiring an outfielder who would be under the team's control for 2014 and beyond. With the NL West race tight and Giancarlo Stanton apparently staying put, the Mets have found few attractive players available to pursue.
"I just don't think there's much out there right now," the source said. "Those are offseason deals. There are too many teams still in it -- National League and American League."
The Mets are pleased with Eric Young Jr.'s performance in left field, anyway, since he has given the club its first true leadoff hitter since Jose Reyes.