MIAMI -- Zack Wheeler went from flirting with history to flirting with disaster in a span of three batters.
The rookie took a no-hit bid one out into the seventh inning, when he walked Logan Morrison, then surrendered consecutive singles to Ed Lucas, Donovan Solano and Jake Marisnick. By the time Wheeler coaxed a double-play groundout from Jeff Mathis, the Marlins had evened the score at 2.
Although Wheeler did not factor into the decision, the Mets ultimately beat the Marlins, 4-2, in 10 innings on Tuesday night at Marlins Park. John Buck produced a tiebreaking two-run single against Steve Cishek with the bases loaded and none out.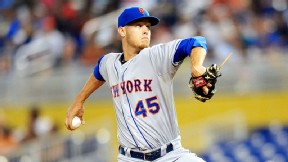 Steve Mitchell/USA TODAY Sports
Zack Wheeler ended up with a no-decision after taking a no-hit bid into the seventh inning.
Wheeler's effort marked the fifth time this season a Mets starting pitcher had taken a no-hit bid into the seventh inning. Matt Harvey has done so three times. And Dillon Gee held the Atlanta Braves hitless until Freddie Freeman produced a leadoff single in the seventh only eight days ago at Citi Field.
The Mets, of course, did not record a no-hitter until the 8,020th game in franchise history, when Johan Santana ended the drought on June 1, 2012.
Wheeler's final line Tuesday: 7 IP, 3 H, 2 R, 2 ER, 3 BB, 5 K. He threw 87 pitches (64 strikes).
Wheeler flirted with the feat in his eighth career game.
The last pitcher to record a no-hitter quicker to begin a major league career: Clay Buchholz with the Boston Red Sox in his second major league outing, on Sept. 1, 2007 against the Baltimore Orioles.
Opportunity lost: The Mets wasted a golden opportunity in the eighth. With the score tied at 2, Marlon Byrd belted a leadoff triple against Chad Qualls. But Ike Davis struck out and Buck grounded out to third base, forcing Byrd to hold. After Juan Lagares then walked, Omar Quintanilla struck out to strand Byrd at third as the score remained even.
Qualls was so excited by the Quintanilla strikeout, he wildly pumped his fist, lost his balance and fell down.
Davis twice failed to drive in a runner from third base with less than two outs. He popped out to second base in the fourth with David Wright on third and one out. Lagares bailed Davis out that time -- with a two-out, two-run triple against Marlins starter Nate Eovaldi to stake the Mets to a 2-0 lead.
What's next: The trade deadline is at 4 p.m. Wednesday. Jenrry Mejia, who tossed seven scoreless innings in his first major league appearance of the season, then opposes right-hander Henderson Alvarez (1-1, 2.64 ERA) at 7:10 p.m. at Marlins Park.