Outfielder Kyle Johnson did not expect to receive word he had been traded to the Mets for Collin Cowgill when he was summoned to the front of the Burlington Bees team bus in late June.
"We were just pulling off the highway getting something to eat," said Johnson, who was drafted by the Los Angeles Angels out of Washington State University in the 25th round last year. "And my manager, [Jamie] Burke, called me up to the front and handed me a cell phone and said, 'Hey, take this.' It was Bobby Scales, our farm director. He's just like, 'Hey, Kyle, how are you doing?'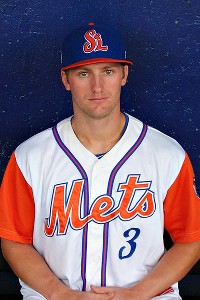 Courtesy of St. Lucie Mets
Kyle Johnson
"If you're going up or down, that's not really the guy you talk to. The manager usually just tells you. He's like, 'Hey, I just want to say congratulations. You've been traded to the Mets.' I was just like, 'OK.' I was caught really off-guard. I didn't really know anything about it. He asked if I had any questions, and I was just kind of speechless."
Johnson, 23, and his fiancée subsequently drove 16 hours over two days from Burlington, Iowa, to join the Mets' low-A affiliate in Savannah. After eight games, he was on the move again, having been promoted to St. Lucie.
"It was kind of at the point right where I was really getting used to those guys when I moved," Johnson said about the Gnats. "And then you come here and you start over. It's great, too, because I'll know a lot more people heading into spring training instead of just 25 or 30 guys I would have known if I was just in Savannah or came straight to Port St. Lucie. Now I know about 60 guys."
Johnson fits the Mets' profile because of his penchant for posting a high on-base percentage. He also puts up big stolen base numbers.
In his two-year pro career between the Angels and Mets, Johnson has hit .290 with a .395 on-base percentage. He has stolen 46 bases in 53 attempts in 128 career games. He also has been hit by 16 pitches. In his final college season at Washington State, Johnson had a .408 OBP and 17 steals in 22 attempts while appearing in 48 games (41 starts).
"I've always been a top-of-the-order-type guy," Johnson said. "I get on base any way I can. One thing I learned in college is a hit by pitch and a walk is just as good as a hit -- just getting on base for those big Nos. 2, 3, 4, 5 hitters to get those RBIs and get me in. I'll get RBIs every once in a while, but I kind of pride myself on stolen bases and scoring runs."
As for the trade, Johnson said: "Just being wanted makes it a lot easier and makes it exciting. I think the Mets are giving me a real cool opportunity that maybe I wouldn't have had with the Angels, just because of the Angels' depth with outfielders all the way up to the top. The Mets organization is rebuilding and developing from within. So I'm really excited about that. I think I'm going to have a great opportunity here."
Organization leaders
Average: Victor Cruzado, Kingsport, .344; Jayce Boyd, St. Lucie, .334; Jeff McNeil, Kingsport, .333 Cesar Puello, Binghamton, .333; Wilmer Flores, Vegas, .322; Kevin Plawecki, St. Lucie, .313; Joe Tuschak, Kingsport, .308; Allan Dykstra, Binghamton, .296; LJ Mazzilli, Brooklyn, .296; Zach Lutz, Vegas, .292.
Homers: Dustin Lawley, St. Lucie, 20; Allan Dykstra, Binghamton, 18; Travis Taijeron, Binghamton, 17; Cesar Puello, Binghamton, 16; Wilmer Flores, Vegas, 14.
RBI: Wilmer Flores, Vegas, 85; Dustin Lawley, St. Lucie, 76; Cesar Puello, 73; Allan Dykstra, Binghamton, 69; Jayce Boyd, St. Lucie, 69.
Steals: Cesar Puello, Binghamton, 24; Darrell Ceciliani, Binghamton, 23; Alonzo Harris, Binghamton, 20; Patrick Biondi, Brooklyn, 15.
ERA: Rob Whalen, Kingsport, 1.36; Rainy Lara, St. Lucie, 2.19; Chris Flexen, Kingsport, 2.31; Miller Diaz, Brooklyn, 2.48; Matt Bowman, St. Lucie, 2.48; John Gant, Brooklyn, 2.56; Octavio Acosta, GCL Mets, 2.59; Robert Gsellman, Brooklyn, 2.61; Carlos Valdez, Boroklyn, 2.78; Noah Syndergaard, Binghamton, 2.80.
Wins: Gabriel Ynoa, Savannah, 11; Matt Bowman, St. Lucie, 10; Rafael Montero, Vegas, 9; Logan Verrett, Binghamton, 9; Erik Goeddel, Binghamton, 9.
Saves: Jeff Walters, Binghamton, 30; T.J. Chism, St. Lucie, 15; Beck Wheeler, Savannah, 11; Bret Mitchell, St. Lucie, 10; Hamilton Bennett, St. Lucie, 8.
Strikeouts: Rafael Montero, Vegas, 113; Noah Syndergaaard, Binghamton, 110; Matt Bowman, St. Lucie, 104; Logan Verrett, Binghamton, 104; Erik Goeddel, Binghamton, 98.
Short hops
• Jayce Boyd, who is hitting a combined .334 between Savannah and St. Lucie this season, exclusively has served as DH since June 29 with the Florida State League club. Boyd, a first baseman drafted in the sixth round last year out of Florida State, has been instructed not to throw by team doctors. He is due to undergo shoulder surgery after the season. The injury does not restrict Boyd's hitting.
• Travis d'Arnaud, who has played in six Gulf Coast League games since returning from a broken first metatarsal in his left foot, is expected to move to Double-A Binghamton.
• 2012 first-round pick Gavin Cecchini returned to shortstop for Brooklyn Saturday after missing more than three weeks with an ankle injury. He is 1-for-16 since returning from the DL.
• Trying to limit left-hander Steven Matz's innings, the Mets skipped his last turn with Savannah. Matz has logged 81 innings this season. His previous two seasons were limited because of a prolonged recovery from Tommy John surgery and other injuries.
Matz should be an interesting case this offseason. He will be Rule 5 draft eligible, so the Mets may have to protect him, despite Matz -- the organization's top pick in 2009 -- never having pitched above low-A. Still, despite a 2.33 ERA through 16 South Atlantic League starts and being left-handed, there is no guarantee. One scout's report on Matz had his fastball extremely straight.
• Left-hander Pedro Feliciano last Thursday made his first Triple-A appearance since 2006, when the Mets were aligned with Norfolk. Feliciano has retired all six batters he has faced -- four lefties, two righties -- over three appearances since the promotion from Binghamton to Las Vegas.
• After a torrid start, 2011 first-round pick Brandon Nimmo's average has dipped to .261 with Savannah. Nimmo has struck out 99 times in 283 at-bats.
• Jordany Valdespin, the reigning Pacific Coast League Player of the Week, continues to put up gaudy numbers with Vegas. Despite losing a six-game hitting streak in Tuesday's rain-shortened game at Nashville, Valdespin is hitting .453 (24-for-53) with three homers and 24 RBIs in 14 games since a demotion.
Of course, Valdespin triggered a bench-clearing brawl against Sacramento. After admiring a homer, Valdespin then was hit by a pitch later that night. When the Mets retaliated, with Armando Rodriguez hitting a Sacramento batter, both benches emptied. Valdespin, Rodriguez and manager Wally Backman were ejected. Valdespin went 9-for-14 in the weekend series against Sacramento.
"Valdespin being Valdespin," said one observer. "He pimped singles more than the home run, though. He also hit .600 against this team. LOL. That will piss people off."
• Bradley Marquez, a 16th-round pick in 2011, has returned to Texas Tech for another college football season. While splitting time between left field and center field with Kingsport, the 20-year-old Marquez hit .250 with one homer and nine RBIs in 84 at-bats. A Mets official said Marquez for the first time does plan to attend spring training in 2014, so the shift from college football to baseball as the priority looks like it will begin then.
• Right-hander Noah Syndergaard earned Eastern League Player of the Week honors. Syndergaard is 4-0 with a 2.25 ERA in seven starts since a promotion to Binghamton.
Syndergaard logged 103 2/3 innings last season in the Blue Jays organization with Class A Lansing. He has thrown 99 2/3 innings this season between St. Lucie and the B-Mets, so he probably has slightly more than 30 innings remaining this season before reaching his cap.
• Right-hander Akeel Morris, a 10th-round pick in 2010 out of the U.S. Virgin Islands, continues to post remarkable numbers with Brooklyn. Morris has tossed 25 scoreless innings. He has allowed 12 hits and 12 walks while striking out 31.
• The Mets are talking with 2011 10th-round pick Matt Budgell about returning to the organization for spring training. Budgell, a right-handed pitcher who made 12 appearances for Kingsport last year, had decided to retire from baseball earlier this year.
• Mets prospects will be assigned to the Scottsdale Scorpions in the Arizona Fall League, on a team with farmhands from the Braves, Yankees, Pirates and Giants. Luis Rivera, the Mets' short-season hitting coordinator, will serve as hitting coach for that AFL squad.
• 2012 seventh-round pick Corey Oswalt, a right-handed pitcher selected out of high school in San Diego, is due to undergo surgery today to repair a knee injury.