MIAMI -- The trading deadline has passed with no activity from the Mets.
Sandy Alderson said most of the Mets' dialogue with other clubs centered on Marlon Byrd, but the value in finishing the season strongly exceeded the caliber of prospects offered for him. The GM added that no significant discussion about trading Bobby Parnell took place.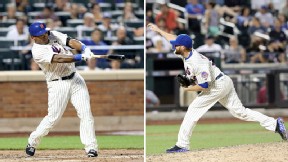 Getty Images, USA TODAY Sports
Marlon Byrd and Bobby Parnell remained with the Mets at the trading deadline.
"We had a lot of conversations. It wasn't that we were optimistic or pessimistic about making a deal," Alderson said. "I think we were trying to be objective about what we might do. Nothing really got to the threshold of interest for us. We did have conversations all the way up until a few minutes before the deadline. From our standpoint, we weren't prepared to make a move just to make a move. Nor were we prepared to make a move that would have perhaps significant short-term impact on the major league team and possibly only modest impact on the organization long term.
"We had extensive and substantive conversations with lots of teams, but never got to the point where we were really tempted to pull the trigger. ... We've taken what seemed to be a fairly barren outfield at the beginning of the season and turned it over the last month into maybe the most productive outfield in baseball. So some positive things have happened. And we want to let that play out. I also think if we can create some momentum this season, whether that results in a playoff appearance or not, that will have a more positive effect on the organization and our fans than acquiring a few additional mid-level prospects."
Said Byrd: "If it happened, it's part of the business. But it didn't happen. I get to be a part of this great organization and keep moving forward these next two months and see what we can do, see if we can make a push."
As for retaining Parnell, who is under the Mets' control through the 2015 season, Alderson said: "We spent the last two-years-plus looking for a closer. It looks like we found one. Why would we want to trade him immediately?"
Alderson said he did engage teams as the buyer about acquiring players that would have been under the Mets' control in 2014 and beyond.
"We did have conversations with clubs about acquiring players of that type," Alderson said. "There were deals there to be made at a very high price -- a price way beyond what we were willing to pay in terms of prospects. And I do suspect those same players may be available in the offseason."