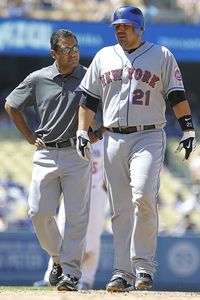 AP Photo/John Lazar
Catcher Rod Barajas is forced out of Saturday's game at Dodger Stadium after straining his right oblique muscle.
The right oblique issue that started with Angel Pagan and then Jose Reyes is catching. Rod Barajas left Saturday's game in the sixth inning with a strain to that muscle.
Barajas was replaced by Henry Blanco rather than a speedier pinch runner such as a starting pitcher. Blanco was forced to hold at third base on Reyes' ensuing RBI single and was stranded there when Luis Castillo followed by hitting into a double play with the bases loaded.
The Mets are carrying three catchers, and Jerry Manuel acknowledged Barajas could land on the DL.
"We have one game tomorrow, then we have an off-day," Barajas said. "We have a day to let things calm down and see where we're at, and then we'll come back Tuesday and we can see how I'm progressing."
Additional details here