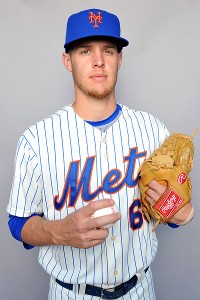 Steve Mitchell/USA TODAY Sports
Zack Wheeler could finish the season in the bullpen.
MIAMI -- As the Mets try to limit the innings of Matt Harvey and Zack Wheeler down the stretch, the club already has gone to a six-man rotation.
But another idea has come up with respect to Wheeler, too: Terry Collins said he and Dan Warthen have discussed using Wheeler in relief the final couple of weeks of the season.
The rationale: Collins believes there is a value in pitching through the end of September, so a young player is used to that grind when the Mets are involved in more meaningful games. And a way to limit the innings while also keeping Wheeler active through the end of the season may be to use Wheeler out of the bullpen, according to the manager.
"We're just trying to figure out how we can save innings and get them through it," Collins said.
Wheeler currently is at 114 1/3 innings this season between the majors and minors. He logged 149 innings last season. So Wheeler probably has about 66 innings remaining this season until reaching a cap of roughly 180 innings.