MIAMI
FIRST PITCH: The Mets stood pat at the non-waiver trading deadline -- prioritizing attempting to finish strongly over just taking the best offer for free-agent-to-be Marlon Byrd.
Byrd is unlikely to be traded in August, even if the Mets were motivated. Because he is making $700,000 this season (only $229,508.20 remains owed as of today), Byrd would not clear waivers. That means the Mets could only deal with the team that claims Byrd in order to swing an August deal.
John Buck or, dare we say, Frank Francisco would be the most logical August deals if the Mets were so inclined. Because each is still owed in excess of $2 million the remainder of the season, both should clear waivers, making them eligible to be traded to any of the other 29 teams this month.
"I've been through these days a lot," Terry Collins said about the July 31 trade deadline. "You know what? If stuff happens, you've just got to adjust. I'm just hoping that next year at this time we're in the hunt and our names are being mentioned as guys who are trying to get somebody who can help us win.
"But I'm glad Marlon is still here. I'm glad Bobby Parnell is still here, or anybody else who was rumored. John Buck, I saw his name mentioned today with Yadie [Yadier Molina] going down. I'm glad they're all still here, because we're playing pretty good and I want to continue it."
Speaking of good baseball, the Mets have a chance to win another road series this afternoon.
Matt Harvey (8-2, 2.11 ERA) opposes right-hander Tom Koehler (2-6, 4.67) as the Mets complete an eight-game road trip at 12:40 p.m. at Marlins Park. Harvey is winless in three starts against the Marlins this season, albeit with a 3.12 ERA.
Jonathon Niese also is due to make a start today -- of the rehab variety, with Class A St. Lucie.
Thursday's news reports: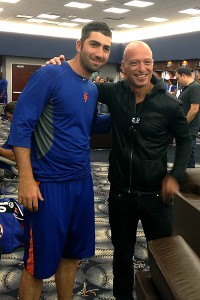 Courtesy of New York Mets
Josh Satin fan Howie Mandel got to see no deal from the Mets at the trading deadline.
• Sandy Alderson said the trade talk before Wednesday's 4 p.m. deadline centered on Byrd, but there was nothing enticing offered to prompt the organization to want to sacrifice 2013 competitiveness. The GM added that the price was exorbitant if the Mets wanted to be buyers and add a piece under their control for 2014 and beyond.
Columnist Joel Sherman in the Post suggests quiet trade deadlines may now be the norm because: (1) there isn't offense to acquire anywhere because the quality around baseball has nosedived, (2) smaller-market teams no longer feel a money crunch with MLB flush with cash from big TV deals, and (3) the value of retaining prospects is at an all-time high.
Read more on the Mets' inactivity in the Post, Journal, Record and Star-Ledger.
• David Wright has a right hamstring injury, although the third baseman barely would acknowledge it and vowed to play this afternoon. Read more in the Daily News.
• Jenrry Mejia felt irritation from a bone spur in his right elbow while surrendering three runs in six innings as the Marlins beat the Mets, 3-2, Wednesday night. Pinch hitter Josh Satin flied out to left field against left-hander Mike Dunn to strand Wright at third base in the eighth. The Mets nonetheless finished July with a 15-12 record -- their first winning month since going 15-13 in June 2012.
Read game recaps in the Daily News, Times, Star-Ledger, Newsday, Journal and MLB.com.
• Johan Santana gave an interview to a Venezuelan radio station, which tweeted his responses. Santana vowed to pitch again in the majors and suggested his recovery from the second shoulder surgery to repair a torn anterior capsule is going better than it did the first time.
"I am in the process of rehabilitation," Santana said in Spanish. "The operation was done by Dr. [David] Altchek and everything went successfully. I feel much better than how I felt after the first operation. I have in mind to return to the mound. The doctors did their part. Now it's up to me for the most difficult part.
"Maybe I threw my last pitch for the Mets. Some say my career is over. I do not think so. … I don't put dates on it. It is not the most prudent. They believe that in a month I already could start throwing."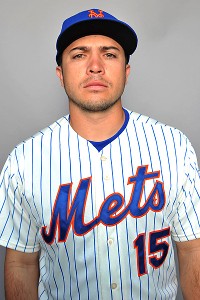 Steve Mitchell/USA TODAY Sports
Travis d'Arnaud will be a consideration for a call-up if John Buck goes on paternity leave, according to Terry Collins.
• Buck's wife is due to give birth to the couple's child today in New York, so the catcher may need to go on paternity leave. If so, Travis d'Arnaud will be a consideration to replace Buck, according to Collins. However, Collins added, the Mets may use Juan Centeno or Francisco Peña in such a scenario instead because d'Arnaud is just returning from a broken foot and may not be sharp enough to see major league pitching. D'Arnaud went 0-for-4 and had a throwing error Wednesday, in his first game after joining Binghamton. Paternity leave lasts three days, and Buck was unsure it would be necessary. Read more in the Post, Journal and Record.
• Collins and pitching coach Dan Warthen have discussed using Zack Wheeler in the bullpen to complete the season as a way to conserve the rookie's innings. Read more in the Star-Ledger.
• Michael Salfino in the Journal notes Harvey is more efficient than most major league pitchers. Writes Salfino:
Major league pitchers this year throw an average of 16.3 pitches per inning. Harvey throws 15.2, a big improvement over his 2012 average of 16.5. So while a typical big-league pitcher would have tossed 134.8 innings while racking up Harvey's 2013 pitch count of 2,198, Harvey has squeezed 145 innings out of that same amount. It is like he's thrown an extra 10 innings for free.
Without any early shutdown, Harvey is on pace to toss 3,424 pitches. That's how many an average pitcher accumulates in 210 innings.
• The MMBQ profiles former used car salesman Kevin Burkhardt. Read it here.
• Jamie Hoffmann homered twice, but Greg Burke surrendered a walk-off RBI single as Nashville beat Las Vegas, 3-2. Dustin Lawley slugged his Florida State League-leading 21st homer in St. Lucie's 4-1 loss to Tampa. Gabriel Ynoa earned his 12th win as Savannah beat Asheville 5-1. Read the full minor league recap here.
• Mike Puma in the Post reviews July. He names Byrd MVP and Ike Davis LVP.
• Anna Benson has a bond hearing in Cobb (Ga.) Superior Court today, writes Mike Sielski in the Journal.
• From the bloggers … Faith and Fear in Flushing deals with the Mets not dealing Byrd.
BIRTHDAYS: Gregg Jefferies, the Mets' first-round pick in 1985, turns 46. … Left-hander Brian Bohanon is 45.
TWEET OF THE DAY:
You think David Wright is going to sit out a game due to a clutched hamstring? Dude played through a broken back once. #MLB #Mets

— Marisa Jean (@xmarisajeanx) August 1, 2013
YOU'RE UP: In what place do you think the Mets will finish in the NL East after keeping their team intact?