MIAMI -- Superman has kryptonite. Matt Harvey has the Miami Marlins.
For the third time this season, Harvey failed to get through six innings. All three of those starts have come at Marlins Park.
This time, Harvey dominated the Fish through five innings, surrendering only one hit -- a two-out single to opposing pitcher Tom Koehler in the third.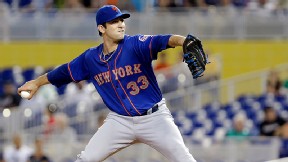 Wilfredo Lee/Associated Press
Matt Harvey remained winless against the Marlins.
But the Marlins posted three runs against Harvey in the sixth, highlighted by a two-out, two-run single by Donovan Solano to cap a nine-pitch at-bat that chased the ace.
The Marlins went on to earn a split of the four-game series with a 3-0 win Thursday afternoon.
Harvey is now winless in four starts against the Marlins this season. The Mets are 5-10 against Miami in 2013 with one series remaining -- a four-game set Sept. 13-15 at Citi Field.
Harvey's line Thursday: 5.2 IP, 5 H, 3 R, 3 ER, 0 BB, 8 K, 1 HBP. He threw 110 pitches (71 strikes).
No offense: The Mets had ample opportunities against the Stony Brook University product Koehler, who ended up tossing six scoreless innings.
Ike Davis stranded five men on base in his first two at-bats alone. He struck out to end the top of the first and popped out in foul territory to end the top of the third.
In the fifth, with two runners on base and one out, Marlon Byrd sent a sinking liner to right-center. Rookie Jake Marisnick made a stellar diving catch to rob Byrd of an extra-base hit and doubled David Wright off at first base.
Harvey -- although it's not his primary responsibility -- twice ended innings by stranding runners in scoring position, too.
What's next: The Kansas City Royals, who are bidding this afternoon to stretch their winning streak to nine games, make their first visit to Queens since 2002. Dillon Gee (7-8, 4.13 ERA) opposes right-hander Wade Davis (5-9, 5.50) in Friday's 7:10 p.m. opener at Citi Field. O.A.R. performs postgame.