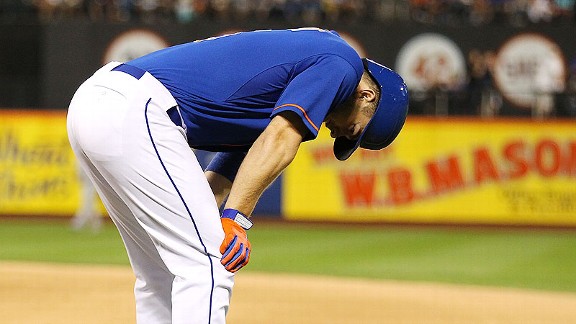 Mike Stobe/Getty Images
David Wright came up lame after legging out an infield single in the 10th inning.NEW YORK
FIRST PITCH: Terry Collins labeled Friday's walk-off win "bittersweet."
That is because despite beating the Kansas City Royals, 4-2, in 11 innings Friday night, the Mets lost captain David Wright to a right hamstring strain, leaving a struggling offense without its biggest weapon.
Wright will undergo an MRI today. A DL stint would appear likely.
Mike Baxter is due to join the club Saturday. That signals the Mets are content using Josh Satin and/or Justin Turner at third base in Wright's absence.
Baxter had been demoted as part of the June 10 purge with Ike Davis and Robert Carson.
He hit .275 with five homers and 15 RBIs in 149 at-bats with Triple-A Las Vegas. During Baxter's stint in the Pacific Coast League, his wife gave birth in New York to the couple's first child, which should make the return to the big leagues a doubly happy event. Baxter also gives the Mets a lefty pinch hitter, which they lacked.
Meanwhile, because Carlos Torres was pressed into relief work in extra innings, Jeremy Hefner (4-8, 4.21 ERA) will move up to today's 1:10 p.m. start on standard rest opposite left-hander Bruce Chen (4-0, 2.09). Zack Wheeler similarly will slide up to Sunday.
Saturday's news reports: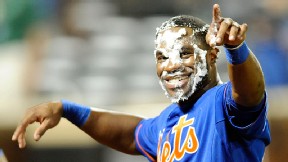 Bill Kostroun/Associated Press
LaTroy Hawkins delivered a pie to the face of Eric Young Jr. after the walk-off homer.
• Eric Young Jr. delivered a walk-off two-run homer against Luis Mendoza as the Mets snapped Kansas City's nine-game winning streak. Young produced his first homer as a Met. It was the first walk-off hit of Young's career and the third walk-off homer by a Met this season, joining Jordany Valdespin against the Dodgers on April 25 and Kirk Nieuwenhuis against the Cubs on June 16.
Dillon Gee had taken a scoreless effort into the eighth inning before issuing a leadoff walk and departing with a two-run lead.
With Bobby Parnell unavailable perhaps through the weekend because of continued neck discomfort, David Aardsma was anointed the closer. Aardsma, who posted a combined 69 saves in 2009 and '10 with the Seattle Mariners, suffered a blown save when he surrendered a ninth-inning run and failed to protect a 2-1 lead.
Read recaps in the Post, Daily News, Newsday, Times, Star-Ledger, Record, Journal and MLB.com.
• Wright, who had been dealing with a hamstring injury since last weekend in D.C., left the game in obvious discomfort after legging out an infield single to begin the 10th inning. Wright had been downplaying the issue as a manageable cramp. "Most likely not all that good," Collins said about Wright's injury. Wright did not speak to the media postgame.
Wright had slugged a two-run homer in the first inning -- the 220th long ball of his career. That tied Wright with Mike Piazza for second on the Mets' all-time homer list. Darryl Strawberry has a franchise-record 252.
• Josh Edgin landed on the disabled list before Friday's game with a hairline fracture of a rib on his left side, potentially ending his season. That paved the way for Pedro Feliciano to join the Mets.
Feliciano, who arrived in the fifth inning, entered into a pressure-packed situation in his first major league game since Oct. 2, 2010. After Aardsma blew the save, Feliciano inherited runners on the corners and two outs in a 2-2 game in the top of the ninth and coaxed a groundout from lefty-hitting Alex Gordon.
Feliciano underwent shoulder surgery and never appeared for the Yankees while collecting $8 million over the previous two seasons. He re-signed with the Mets during the offseason, but was idled during spring training because of a heart issue. Then, during the season while pitching for Class A St. Lucie and trying to build up his arm strength, Feliciano went home to Puerto Rico because his son briefly was hospitalized. Feliciano, 36, developed a type of food poisoning known as ciguatera from fish served by his mother. The ailment continued to torment him as he tried to resume pitching in the minors.
Feliciano, who made a franchise-record 92 appearances for the Mets in 2010, appeared in 22 minor league games this season across three levels before the promotion.
Read more in the Post and Star-Ledger.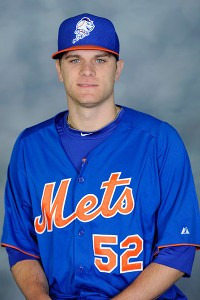 Courtesy of New York Mets
Savannah right-hander Matt Koch was struck in the head by a line drive and was hospitalized.
• Savannah right-hander Matt Koch, the organization's third-round pick last year out of the University of Louisville, was struck in the head with a line drive off the bat of Greenville's Mario Martinez to open the second inning last night and departed the game. He was to be hospitalized overnight.
Teammate Stefan Sabol tweeted: "Please pray for my teammate @mattykoch20 and his family! He was hit in the head by a line drive and I ask we pray for a speedy recovery!"
Koch did tweet: "Thank you everyone for your prayers. I'll be ok. Jus stayin in the hospital over night and havin more tests in the mornin then hopefully out"
• Jonathon Niese is due to be at Citi Field today and should throw a between-starts bullpen session. Niese tossed four scoreless innings Thursday with Class A St. Lucie in his second rehab appearance as he returns from a partial tear of his left rotator cuff. Niese likely will be activated from the DL after one more rehab appearance, which he expects will be Tuesday with Brooklyn.
• Automotive businesses adjacent to Citi Field have received 30-day eviction notices -- meaning they have to vacate the area in the next month under eminent-domain laws. The business owners are not happy. View a WPIX channel 11 report here.
• John Buck's wife is overdue to give birth to the couple's child. Because the Mets are now in New York, it is unclear if Buck actually will need paternity leave when the baby is born.
• Davis, after batting fourth and then fifth since his return from the minors, was dropped to seventh Friday. Davis went 3-for-3 with a walk -- although he did commit an error and avoided another when LaTroy Hawkins made a stellar play at first base to corral Davis' off-the-mark flip. Davis might have been headed the bench today with the lefty Chen pitching, although Wright's injury and Satin's potential use at third base now makes that unclear.
• Jacob deGrom allowed four runs in six innings as Las Vegas lost at Nashville, 4-2. Greg Peavey took a no-hit bid one out into the sixth and Binghamton beat Harrisburg, 3-0. Lucas Duda went 3-for-3 with a homer and three RBIs and Alex Panteliodis tossed 6 1/3 scoreless innings as St. Lucie blanked Clearwater, 4-0. Jared King drove in four runs and Patrick Biondi went 4-for-5 as Brooklyn beat Jamestown, 8-1.
• Wally Backman received a two-game suspension and Valdespin and Armando Rodriguez received three-game bans for their parts in a bench-clearing brawl earlier this week in Las Vegas. Valdespin's pimping of a homer led to an exchange of hit-by-pitches -- the latter by Rodriguez to a Sacramento batter, which prompted the benches to clear. Backman completed his suspension last night. Rodriguez, now assigned to Double-A, and Valdespin have one game remaining.
• SNY will soon give away analyst Keith Hernandez's scorecard from each game he works, writes Neil Best in Newsday.
• Dave Caldwell in the Journal profiles Juan Lagares.
• From the bloggers … John Delcos at Mets Report believes using Wheeler out of the bullpen at the end of the season would be a mistake. ... Faith and Fear in Flushing cannot conceive of the Royals as a Mets rival, not even for a weekend.
BIRTHDAYS: Mackey Sasser, who had the throwing yips as a catcher with the Mets, turns 51. He has served as the head coach at Wallace Community College in Dothan, Ala., for 17 seasons. … Kevin Elster is 49.
TWEET OF THE DAY:
HE'S BAAAAACK RT @AndrewHarts: @PerpetualPedro giving intense hugs out in the bullpen #Mets pic.twitter.com/ZbyzL2KFRb

— Katie Bowles (@MetsGirlKatie) August 3, 2013
YOU'RE UP: Were the Mets foolish to allow David Wright to play through a clear hamstring issue?