NEW YORK -- Mike Baxter did not want his return to the majors to be prompted by an injury to David Wright. The outfielder nonetheless was excited to be back in the home clubhouse at Citi Field on Saturday morning, after taking a 6 a.m. flight from Nashville, where Triple-A Las Vegas had been playing.
Baxter, along with Ike Davis and Robert Carson, had been part of a June 10 mass demotion. He was hitting .212 with four RBIs in 85 at-bats at the time he was dispatched to the minors.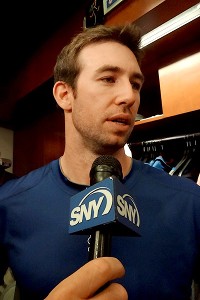 Adam Rubin
Mike Baxter speaks upon rejoining the Mets on Saturday morning.
"I knew I hadn't been playing well," Baxter said. "That was the reality of it. I wasn't happy with my performance. I had gotten some hits off the bench and things like that, but when they had given me the opportunities to start, I really wasn't playing well."
Baxter hit .275 with five homers and 15 RBIs and had a .374 on-base percentage in 42 games with the 51s. After hitting .217 in June, he hit .301 in July and then was 3-for-6 this month.
"Looking back on it, it was a good opportunity to go down and play consistently, and kind of get in an environment where you can work on your game and it's not really results-first," Baxter said. "... I think I kind of turned the corner in July, and I've been feeling a lot better."
Baxter has been in New York twice since the demotion. He had paternity leave while with the 51s for the birth of his first child, son Will, on July 1. He then came to New York during the Triple-A All-Star break to spend time with his wife and newborn.
Although Baxter was raised in Whitestone, Queens, he actually now resides in Nashville. Will, now a month old, had been cleared to travel Sunday from New York to Nashville. So Baxter was able to spend much of the past week with his son because the 51s were playing there. Now, though, he has left the family behind in Tennessee to join the Mets.
"I really wish it wasn't on these terms," Baxter said about rejoining the Mets. "Obviously watching David getting hurt like that, nobody really wants to see that. He's the heart of this team."