NEW YORK -- David Wright said he used his judgment in deciding he could play through a right hamstring injury. But a week after the issue first arose, Wright exerted himself trying to beat out a 10th-inning infield single Friday and knew he had gone too far.
Wright was diagnosed Saturday with a Grade 2 strain. Terry Collins estimated Wright will miss three to five weeks.
Wright did not second-guess himself for playing a week with the injury rather than sitting out when it first started nagging to try to let it calm and minimize the absence.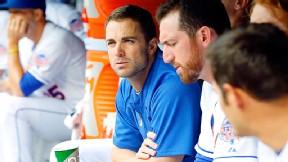 Jim McIsaac/Getty Images
David Wright watched from the dugout on Day 1 of his DL stint.
"Being around for as long as I've been around, I have a pretty good sense of what my body can and can't take," Wright said after the Mets lost to the Kansas City Royals, 4-3, in 12 innings Saturday. "I felt like I could go out there and play through it. It didn't really bother me regularly. It was just when I needed to try to kick it into that extra gear is when it caught me a couple of times. And last night it caught me pretty good."
Wright said he wanted to keep himself under control running to first, but his instincts kicked in to try to beat out the 10th-inning grounder, which he did. He then departed the game.
"I've been fortunately pretty healthy throughout my career," Wright said. "In my mind, there's a difference between playing hurt and playing injured. We take pride in going out there and playing through certain things. I certainly do that. And I didn't think by going out there and playing that this would happen. I don't think anybody thought that this would happen.
"As much as I wanted to try to stay under control and not really push myself to that point, once you get in between those lines, something happens and you just kind of reach down for that extra gear. For me, that was that line that was I was tiptoeing, and unfortunately kind of crossed the wrong side of that."
Wright spoke with a team doctor Saturday. He said he must remain inactive for the immediate future to allow fluid to drain.
Asked his level of concern about how the Mets might perform at the plate in his absence, Wright said: "Some days we hit and some days we don't. I think we've been inconsistent. We've had ups and downs. But we've got guys that are capable of getting hits and scoring runs, with or without me in the lineup. I'll cheer these guys on. We've had a pretty big challenge ahead of us. And we still do. But we've got some guys that know how to play the game, and we'll get it done."
He was unsure whether he would rehab at the Mets' Port St. Lucie, Fla., complex or be allowed to travel with the major league club on the upcoming trip west to Arizona, L.A. and San Diego. Although there might be a value in having the captain around, Wright said he did not want to interfere with active players' game preparations by tying up use of the major league training staff getting treatment for his hamstring strain.
"I think we have somewhat of an organizational philosophy that when you get hurt you go down to Florida," Wright said. "With that being said, if they feel that's the quickest way to get me back on the field, then I'll do that. Or if they say, 'You know what? We'd like you to travel with the team and see our physical therapists and our trainers,' I'll do that."