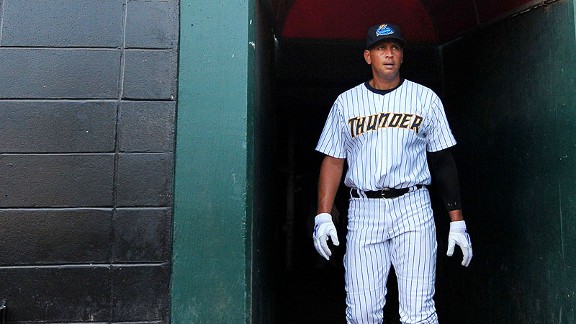 Drew Hallowell/Getty Images
It's Biogenesis suspension day for the Trenton Thunder's Alex Rodriguez and others.NEW YORK
FIRST PITCH: After losing a rubber game to the Kansas City Royals on Sunday to drop to 1-4 since staying intact at the trade deadline, the Mets take a day off Monday.
It's Biogenesis suspension day, although Alex Rodriguez reportedly will appeal MLB's planned suspension through the 2014 season, allowing him to play tonight at the Chicago White Sox and creating a circus atmosphere.
Cesar Puello, the Mets prospect implicated by "Outside the Lines" as having a connection to Biogenesis, has been held out of the Double-A Binghamton starting lineup for four straight games, although Paul DePodesta would only describe it as a managerial decision.
Puello, a 22-year-old right fielder, is hitting .328 with 16 homers and 73 RBIs in 329 at-bats with the B-Mets. He is on the 40-man roster, so he receives the major league protections specified in the collective bargaining agreement.
The Mets do have some off-day decisions to make:
Bobby Parnell, who has been unable to pitch since last Tuesday, is due for a reexamination of his troublesome neck. Given a 15-day disabled-list stint can be backdated to Parnell's last usage, DLing Parnell may have to be a consideration.
Of course, that leads to the question: Who would close minus Parnell? David Aardsma blew a save chance Friday, then surrendered a homer in the 12th the following day.
The Mets also have to sort out how to cover third base during David Wright's absence. Options include: Moving Daniel Murphy to third base (and Eric Young Jr. to second), as well as using Josh Satin or Justin Turner there, or promoting Wilmer Flores from Triple-A Las Vegas. Flores suddenly has started two straight games at third base for the 51s, after starting there only once earlier in the season (April 15).
Flores, who turns 22 on Tuesday, belted his 15th homer of the season Sunday at Memphis. He is hitting .322 and has a Pacific Coast League-leading 86 RBIs.
Meanwhile, when play resumes Tuesday, the Mets welcome the Colorado Rockies to Citi Field. The pitching probable:
Tuesday: Jenrry Mejia (1-1, 2.08) vs. RHP Tyler Chatwood (7-4, 3.15), 7:10 p.m.
Wednesday: Matt Harvey (8-3, 2.21) vs. RHP Chad Bettis (0-1, 9.00), 7:10 p.m.
Thursday: Dillon Gee (7-8, 3.97) vs. Jhoulys Chacin (10-5, 3.40), 12:10 p.m.
Monday's news reports:
• Marlon Byrd lost two fly balls in the sun, Zack Wheeler had a pair of wild pitches and John Buck had a passed ball in a three-run fifth by the Royals en route to a 6-2 win against the Mets on Sunday. Wheeler lost about 3 mph on his fastball when he got into trouble, potentially from trying to aim the ball. Terry Collins afterward told Wheeler he needed to step up and pick up his teammates after the miscues in right field. The Mets had been 5-0 in Wheeler's July starts.
Writes columnist Larry Brooks in the Post:
It was sunny when the visitors from Kansas City were in the field, too, but Mets manager Terry Collins said: "We unfortunately couldn't hit the ball that high to get their right fielder involved."
Seriously, he said that.
Read game recaps in the Post, Daily News, Times, Newsday, Star-Ledger, Journal, Record and MLB.com.
• Lefty reliever Tim Byrdak, like Pedro Feliciano on the comeback trail, has been promoted to Las Vegas. Byrdak, 39, went 1-1 with a 2.19 ERA in 14 appearances spanning 12 1/3 innings with Class A St. Lucie. He allowed six hits and walked seven. Lefty batters were 1-for-12 with a walk against him. Byrdak underwent surgery on Sept. 6, 2012 to repair a torn anterior capsule in his left shoulder.
• Read more on the third-base options in the Post, Daily News, Star-Ledger, Record and Newsday.
• Rafael Montero allowed one run in eight innings and Las Vegas beat Cards prospect Michael Wacha at Memphis, 4-2. Jordany Valdespin went 2-for-4 in his return from a three-game suspension. Noah Syndergaard tossed five scoreless innings and combined with Armando Rodriguez and Ryan Fraser on a three- hit shutout as Binghamton blanked Harrisburg, 6-0. Rainy Lara allowed four runs in seven innings and Lucas Duda went 0-for-4 as Clearwater beat St. Lucie, 5-2. Greenville's five-run eighth against Shawn Teufel and Beck Wheeler resulted in an 8-6 Savannah loss. Kingsport was drubbed, 17-1, by Greeneville. Martires Arias and Edioglis Villasmil allowed seven earned runs apiece. Jamestown beat Brooklyn, 9-5, despite LJ Mazzilli's first professional homer.
• The Cyclones had five players selected to the Aug. 13 New York-Penn League All-Star Game at Thomas J. Dodd Stadium in Norwich, Conn. Right-hander Miller Diaz will start for the National League squad. Also selected: right-handers John Gant and Robert Gsellman, left-hander John Mincone and Mazzilli.
• Brendan Prunty in the Star-Ledger chronicles Feliciano's three-year journey to return to the majors. Feliciano has retired all four batters he has faced -- all lefties -- since returning Friday.
• Barry Federovitch at NJ.com insists the Mets cannot bring back Ike Davis in 2014.
• From the bloggers … Rising Apple suggests that while Davis' overall numbers are poor, his numbers since his return from Triple-A are fine. … John Delcos at Mets Report offers a plan to use Flores.
BIRTHDAYS: John Olerud turns 45.
TWEET OF THE DAY:
#Mets baseball is always top priority but this is the 1 week a year in which it takes a back seat...#SharkWeek

— Crofts™ (@Boss_Crofts) August 4, 2013
YOU'RE UP: How should the Mets handle third base in David Wright's absence?