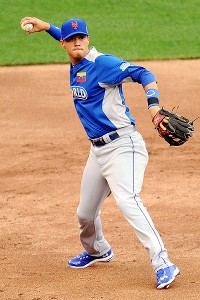 Peter G. Aiken/US Presswire
Two-time Futures Game participant Wilmer Flores should be joining the Mets in the near future.
NEW YORK -- Infield prospect Wilmer Flores, who fans have been clamoring to see since David Wright landed on the DL with a right hamstring strain, should be joining the major league club in the very near future, a baseball source told ESPNNewYork.com.
Flores has been assigned to third base the past two games with Triple-A Las Vegas, after primarily playing the right side of the infield throughout the season.
Flores, who turns 22 on Tuesday, is hitting .322 with 15 homers and has a Pacific Coast League-leading 86 RBIs.
He has played in 90 career minor league games at third base.
The decision means the Mets will not have to disrupt the positioning of Daniel Murphy and Eric Young Jr. Terry Collins indicated over the weekend that the organization was strongly weighing shifting Murphy from second base to third base and Young from left field to second base while Wright misses time.