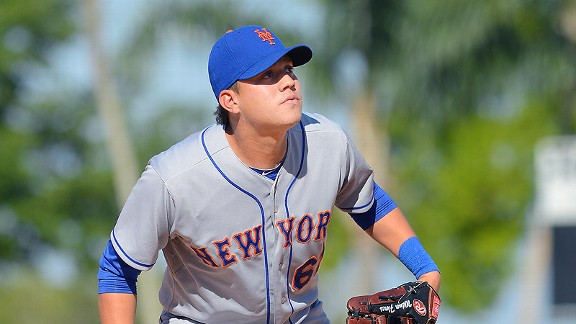 Mark Cunningham/MLB Photos/Getty Images
Wilmer Flores is due to join the Mets today from Triple-A Las Vegas.NEW YORK
FIRST PITCH: Happy Wilmer Flores Day!
On the prospect's 22nd birthday, Flores is due to join the Mets today for his major league debut, presumably at third base, where he has started the past three games for Triple-A Las Vegas.
Flores originally signed for $750,000 out of Venezuela as a 16-year-old back in 2007.
The Mets open a three-game series with the Colorado Rockies at 7:10 p.m. at Citi Field. Jenrry Mejia (1-1, 2.08 ERA) opposes right-hander Tyler Chatwood (7-4, 3.15) in the opener.
Read the series preview here.
Tuesday's news reports:
• Jordany Valdespin and Cesar Puello received 50-game suspensions Monday as Major League Baseball handed out Biogenesis-related penalties. Neither will appeal. Valdespin's Mets career may be over, given his other baggage.
Unlike with Puello, who was linked to Biogenesis by "Outside the Lines" during spring training, the Mets did not learn about Valdespin's impending discipline until this past weekend, a team insider said.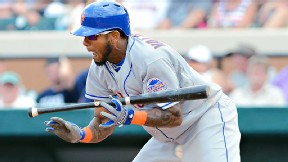 Mark Cunningham/Getty Images
Jordany Valdespin accepted a 50-game suspension.
"Out of respect for the Mets' organization, my teammates, and my family, I have decided to accept this suspension and not exercise my rights under the Basic Agreement to appeal," Valdespin said in a statement. "I made certain mistakes during the 2012 season and I accept full responsibility for those mistakes. I look forward to regaining the trust and respect of the Mets' organization, Mets' fans and my family, and ultimately helping the club win a championship."
Among the players shedding no tears for Valdespin: Washington Nationals reliever Tyler Clippard, who served up a homer to 'Spin last month.
"You're like, 'Those guys are doing stuff that's affecting my career and they're not playing the game the right way.' So that's frustrating," Clippard told Adam Kilgore in The Washington Post. "I think anybody can relate to that. If they're not doing things the right way, and they're beating you, then it leaves a sour taste in your mouth. So that's why this is so important. Because nobody -- players, ownership -- nobody wants to see guys cheat."
Meanwhile, LaTroy Hawkins tweeted that he did not appreciate the praise for commissioner Bud Selig in the wake of the Biogenesis suspensions.
Read more on Mets-related suspensions in the Journal, Post, Daily News, Newsday and Star-Ledger.
• Bobby Parnell is expected to be placed on the disabled list today after receiving an injection in his troublesome neck during a medical exam Monday, team insiders told ESPNNewYork.com. Parnell last appeared in a major league game a week ago, so this is already the seventh day of a minimum 15-day DL stint. Terry Collins' first inclination was to use David Aardsma as his closer. But after Aardsma blew a save chance Friday, stay tuned.
• Lucas Duda walked as a pinch hitter Monday night as his rehab tour shifted to Triple-A. Duda has as much as a week remaining on a maximum 20-day rehab assignment. Afterward, the Mets must return Duda to the majors or option him to Triple-A. The decision to call up Flores does not bode particularly well for Duda, since it means Eric Young Jr. should remain in left field rather than shift to second base.
• Francisco Pena belted a three-run homer as Las Vegas beat Memphis, 5-2. Luis Cessa struck out 12 in eight scoreless innings as Savannah beat Charleston, 6-0. Outfielder Cory Vaughn has been promoted from Class A St. Lucie to Double-A Binghamton. Vaughn last had been with the B-Mets before landing on the DL in early June with an elbow strain. Read the full minor league recap here.
• Read more on Flores and third base in the Post, Daily News, Record and Star-Ledger.
BIRTHDAYS: Flores turns 22. … Victor Zambrano, who was acquired in the infamous trade for Scott Kazmir, turns 38.
TWEET OF THE DAY:
Here is @Noahsyndergaard before he pitched the other day getting warmed up before the game #rockystyle pic.twitter.com/77jYrzoFb0

— Danny muno (@Munz16) August 6, 2013
YOU'RE UP: Do you think we will ever see Jordany Valdespin in a Mets uniform again?