NEW YORK -- A pair of ex-Rockies combined to lead the Mets to a 3-2 win against Colorado on Tuesday night.
Eric Young Jr., acquired from Colorado on June 18 for Collin McHugh, hustled to score the tiebreaking run from second base in the bottom of the eighth on a trickler infield single to the right side by Juan Lagares.
Young had combined with another ex-Rockie, Carlos Torres, to bail the Mets out in the sixth.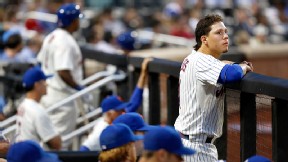 John Minchillo/Associated Press
Wilmer Flores went 0-for-4 with an error in his major league debut.
Torres had inherited the bases loaded from Jenrry Mejia with one out and coaxed a fly ball from Wilin Rosario to center field that was too shallow for a sacrifice fly. Young then made a lunging grab of Todd Helton's sinking liner in shallow left field to end the half-inning and preserve a 2-all score.
Mejia had cruised through five innings, surrendering only an unearned run precipitated by an Ike Davis error. But after a lengthy delay early in the top of the sixth after plate umpire Manny Gonzalez was struck in the jaw with a bunted ball, play resumed and Mejia served up a game-tying homer to pinch-hitter Charlie Blackmon.
Mejia eventually departed with the bases loaded and one out that inning and was bailed out by Torres' pitching and Young's catch.
Mejia's line: 5.1 IP, 4 H, 2 R, 1 ER, 2 BB, 7 K. He threw 96 pitches (65 strikes) in a no-decision.
Mejia had been coming off an outing in Miami in which the bone spur in his pitching elbow was particularly bothersome.
Gonzalez, the first-ever Venezuelan ump in major league history, departed after Blackmon's bunt hit the dirt in foul territory, bounced up and struck him in the jaw. Larry Vanover took over behind the plate after a delay and a three-man crew completed the game.
Closer call: LaTroy Hawkins was given the first save opportunity with Bobby Parnell on the DL and pitched a scoreless ninth. Hawkins earned his first save since May 6, 2012, as an Angel. He allowed a pair of two-out singles in the ninth, but stranded runners on the corners.
John Franco, Roberto Hernandez and Hawkins are now the 40-year-olds to have earned saves for the Mets.
Debutant: Wilmer Flores grounded back to Rockies starter Chad Bettis in his first major league at-bat and finished 0-for-4 in his debut, which came on his 22nd birthday. Flores, who had just started to again receive exposure to third base on Saturday with Triple-A Las Vegas, also committed a fielding error.
Flores departed for Justin Turner on a double-switch when Hawkins entered for the ninth.
That's offensive: Lagares contributed a two-run triple in the first inning as the Mets grabbed a 2-0 lead. He officially finished with three RBIs after Young scored from second base on the eighth-inning infield single.
Davis, reinstalled in the cleanup spot, went 2-for-2 with a pair of doubles and two walks (one intentional).
What's next: Matt Harvey Day! Harvey (8-3, 2.21 ERA) opposes right-hander Jhoulys Chacin (10-5, 3.40) at 7:10 p.m. Wednesday.