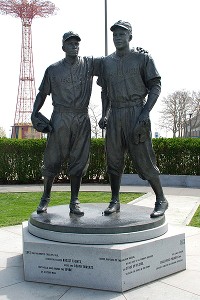 Courtesy of Brooklyn Cyclones
This statue of Jackie Robinson and Pee Weese Reese outside of Brooklyn's MCU Park was vandalized.
NEW YORK -- Employees of the Class A Brooklyn Cyclones, a New York Mets affiliate, arrived at work Wednesday morning to find a swastika and racial and anti-Semitic epithets painted on a statue of Jackie Robinson and Pee Wee Reese that is on display outside MCU Park.
The NYPD is investigating the incident at the Coney Island ballpark as a hate crime.
Read the full news story here.