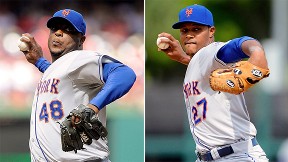 Getty Images, Associated Press
Frank Francisco may not return to the majors this season, while Jeurys Familia is making progress.PHOENIX -- Might Frank Francisco collect a $6.5 million paycheck this season without ever appearing for the Mets?
As the days in the season dwindle, it's looking more and more like that will be the case.
Francisco underwent what seemed like a benign surgery on Dec. 18 to remove a bone spur from his right elbow. He received a pair of cortisone shots in mid-July after complaining of more discomfort. Francisco has not returned to a mound since those injections. He currently is long-tossing at distances up to 120 feet.
Jeurys Familia, actually, has moved ahead of Francisco in terms of progress. Familia is long-tossing at 150 feet and imminently should be advancing to throwing off a mound for the first time since undergoing June 5 surgery to clean out his right elbow.