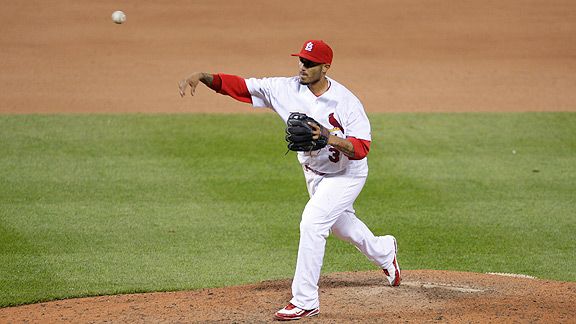 AP Photo/Jeff Roberson
Felipe Lopez found himself pitching in the 20-inning loss to the Mets, then on the DL. But he's now settled in at third base with David Freese on the DL as well as in the Cardinals' leadoff spot.
METS (50-49, third place/NL East) vs. ST. LOUIS CARDINALS (55-44, first place/NL Central)
Tuesday: LHP Jon Niese (6-4, 3.54) vs. RHP Adam Wainwright (14-5, 1.94), 7:10 p.m. ET
Wednesday: LHP Hisanori Takahashi (7-5, 4.52) vs. LHP Jaime Garcia (9-4, 2.21), 7:10 p.m. ET
Thursday: LHP Johan Santana (8-5, 2.79) vs. RHP Blake Hawksworth (4-6, 5.23), 12:10 p.m. ET
Cardinals short hops
Denny Medley-US PRESSWIRE
Albert Pujols does late-night TV before reporting to Citi Field.
First baseman Albert Pujols appears on "The Late Show with David Letterman" on Monday night, including taping a scene on the street outside the Ed Sullivan Theater. Pujols (.300, 23 HR, 70 RBIs, NL-high 66 walks) had been 0-for-his-last-12 before homering Sunday in the sixth inning against Chicago Cubs right-hander Ryan Dempster at Wrigley Field. … Second baseman Skip Schumaker was pulled from the leadoff role 2½ months into the season. Schumaker had a .268 average and .333 on-base percentage in 41 starts in the No. 1 slot. Felipe Lopez has taken over that role. Lopez is receiving starting at third base with David Freese on the disabled list since June 28 with a right ankle bone bruise. Freese subsequently suffered a broken left big toe, reportedly dropping a weight on the foot during a workout. … Center fielder Colby Rasmus is in a 1-for-25 rut at the plate and has lost playing time to rookie Jon Jay, a second-round pick in 2006 out of the University of Miami, who had been considered a fourth-outfielder type. … Right fielder Ryan Ludwick returned from the disabled list Saturday after being out since June 26 with a strained left calf. … Two Cardinals relievers have registered 100 mph on radar guns this season: Jason Motte and Mitchell Boggs. Boggs, a converted starter, has found his calling in the bullpen. He hit triple-figures in velocity on two pitches while striking out Philadelphia's Raul Ibanez on Thursday. … Catcher Yadier Molina, who has won back-to-back Gold Gloves, committed an uncharacteristic error Saturday against the Cubs when he threw high to the plate after recovering Boggs' wild pitch as two runs scored on the play. Molina struggled at the plate in the first half, hitting .222, but he has had an upswing in production since the All-Star break (.344). … Left fielder Matt Holliday (.305, 18 HR, 57 RBIs), who had a quiet weekend against the Cubs, nonetheless has an 11-game hitting streak and has displayed more power recently. Seven of his homers came in a 12-game span from July 6 through last Wednesday. Holliday signed a seven-year, $120 million deal with the Cardinals last offseason. Saturday marked the one-year anniversary of Holliday's acquisition from the Oakland Athletics. … Taking advantage of Monday's off-day, right-hander Blake Hawksworth also will stay on his standard day and start over originally scheduled Jeff Suppan in the series finale. Suppan, who was dumped by the Milwaukee Brewers with an 0-2 record and 7.84 ERA in 15 appearances (two starts), will be pushed back a day. He hopes being reunited with Cardinals pitching coach Dave Duncan will revitalize him. Suppan, 35, was the 2006 National League Championship Series MVP as a member of the Cardinals and then signed a four-year, $42 million deal with Milwaukee. Suppan remains winless since joining St. Louis for the major league-minimum salary. The Cardinals have won two of his seven starts. Hawksworth entered the rotation June 26. St. Louis needed rotation help with Kyle Lohse and Brad Penny on the disabled list. … Right-hander Adam Wainwright pitches in New York for the first time since delivering that infamous curveball to Carlos Beltran in Game 7 of the 2006 National League Championship Series. Wainwright will stay on his every-five-days schedule, leapfrogging rookie left-hander Jaime Garcia in the order. … Garcia, who possesses a solid slider, is coming off one of his best starts. Garcia limited the Philadelphia Phillies to one run and four hits in seven innings last Wednesday. In his previous outing, he required 82 pitches to navigate 3 1/3 innings against the Los Angeles Dodgers. Garcia leads National League rookies in ERA (2.21), wins (nine) and strikeouts (90). Garcia is bidding to become the first Cardinals rookie since Jason Simontacchi (11) in 2002 to reach double-figures in wins. The franchise's last left-hander to reach that plateau: Rick Ankiel, who had 11 wins in 2000. … Former Cardinals manager Whitey Herzog was inducted into the National Baseball Hall of Fame on Sunday. Herzog's Cardinals won the World Series in 1982 and won pennants in '85 and '87. Herzog's No. 24 will be retired in a pregame ceremony at Busch Stadium on Saturday. … GM John Mozeliak's contract was extended for three years, through 2013, the organization announced July 15. … Randy Winn has played in 1,666 games without reaching the postseason -- the longest active streak in the majors. Winn opened the season hitting .213 in 61 at-bats with the Yankees. He was signed as a free agent June 5. … Evan MacLane made his major league debut in relief on July 7. The left-hander originally was a 25th-round pick by the Mets in 2003. He was traded on Aug. 22, 2006 to the Arizona Diamondbacks for outfielder Shawn Green. MacLane returned to Triple-A Memphis on July 19.
Matchups
Niese vs. Cardinals (career: 0-0, 0.00 ERA)
Albert Pujols 1.000, 1 AB
Matt Holliday .000, 1 AB
Yadier Molina .000, 1 AB
Takahashi vs. Cardinals (career: 0-0, 0.00 ERA)
Blake Hawksworth .000, 1 AB
Felipe Lopez .000, 1 AB
Ryan Ludwick .000, 1 AB
Yadier Molina .000, 1 AB
Skip Schumaker .000, 1 AB
Santana vs. Cardinals (career: 2-0, 2.03 ERA)
Yadier Molina .429, 1 RBI, 14 AB
Albert Pujols .400, 2 HR, 2 RBIs, 15 AB
Randy Winn .235, 1 RBI, 17 AB
Skip Schumaker .231, 13 AB
Ryan Ludwick .160, 2 HR, 3 RBIs, 25 AB
Matt Holliday .143, 1 RBI, 7 AB
Felipe Lopez .100, 10 AB
Brendan Ryan .000, 7 AB
Jason LaRue .000, 3 AB
Colby Rasmus .000, 3 AB
Aaron Miles .000, 1 AB
Wainwright vs. Mets (career: 1-0, 4.91 ERA)
Henry Blanco .571, 1 RBI, 7 AB
Angel Pagan .400, 2 RBIs, 5 AB
Jason Bay .333, 2 RBIs, 18 AB
Rod Barajas .286, 7 AB
Jeff Francoeur .273, 11 AB
Jose Reyes .000, 5 AB
David Wright .000, 5 AB
Alex Cora .000, 3 AB
Garcia vs. Mets (career: 0-0, 0.00 ERA)
Angel Pagan .500, 2 AB
Jason Bay .000, 4 AB
Jeff Francoeur .000, 3 AB
Jose Reyes .000, 3 AB
Rod Barajas .000, 2 AB
Luis Castillo .000, 2 AB
David Wright .000, 2 AB
Hawksworth vs. Mets (career: 4-3, 4.07 ERA)
Angel Pagan 1.000, 1 AB
David Wright 1.000, 1 AB
Luis Castillo .667, 3 AB
Jason Bay .000, 2 AB
Henry Blanco .000, 2 AB
Jeff Francoeur .000, 2 AB
Jose Reyes .000, 2 AB
Alex Cora .000, 1 AB
Last series results:
Cardinals won 2-1 at Busch Stadium, April 16-18 (AP game recaps)
Cardinals 4, Mets 3: Felipe Lopez hit a grand slam in the seventh inning to back Chris Carpenter's sterling outing, and the St. Louis Cardinals rallied against the New York Mets bullpen before holding on for a victory. The Mets led 1-0 on the strength of an unearned run and stingy work from Oliver Perez before Lopez hit his fifth career grand slam off 32-year-old rookie Raul Valdes. His first homer of the season came on a 2-1 pitch and landed in the visitor's bullpen in left. Carpenter (2-0) struck out 10 in seven innings and allowed an unearned run on four hits, making a strong rebound from a poor outing in Milwaukee in which he allowed three homers and seven runs (five earned) in five innings at Milwaukee. Earlier in the week, the Cardinals' ace dismissed speculation about potential reasons for getting knocked around, saying he simply got the ball up and paid for it. Carpenter fanned Gary Matthews Jr. three times and reached double digits in strikeouts for the 13th time, and first since Sept. 7 at Milwaukee. He's 2-4 with a 3.89 ERA in six career starts against the Mets and beat them for the first time since Sept. 8, 2005, in St. Louis. Perez allowed a run and four hits in 6 1/3 innings before handing it off to the bullpen, which entered with a 1.95 ERA that was second-best in the majors. The Mets have lost five of six. Fernando Nieve (0-1) got ahead 0-2 in the count against pinch-hitters Skip Schumaker and Matt Holliday, who didn't start due to illness, and both reached to load the bases with one out in the seventh. Schumaker was hit on the foot on an 0-2 pitch and Holliday walked on four straight balls after taking the first two strikes, setting up Lopez's heroics. Mets pinch-hitter Fernando Tatis lined out to third on a diving play by David Freese to end the eighth, stranding runners on second and third. Ryan Franklin allowed two runs on three hits in the ninth with RBIs by pinch-hitter Frank Catalanotto and Jose Reyes, before getting his fourth save in four chances. Jeff Francoeur was 2-for-3 with a walk and has hit safely in the first 10 games, four shy of the Mets' record set by Wright last season and tied with three other players. Francoeur is batting .457 (16-for-35). Shortstop Brendan Ryan's throwing error on a botched rundown in which first baseman Albert Pujols also was at fault gave the Mets an unearned run and the lead in the second. Francoeur was hung up between third and home after taking a wide turn following Perez's sacrifice bunt, but Pujols threw to third instead of home. Ryan, who was covering the bag, uncorked a wild throw to the plate. It was Lopez's first grand slam since he hit one for Washington on April 4, 2008, off the Mets' Aaron Heilman. Mets manager Jerry Manuel, who had considered moving leadoff man Jose Reyes to third, said before the game he'll leave Reyes at the top of the order for now. Reyes was 0-for-4 with two strikeouts. Pro wrestling legend Ric Flair threw out three first pitches, all that bounced several times.
Mets 2, Cardinals 1 (20 innings): Jose Reyes hit a sacrifice fly in the 20th inning and the New York Mets beat the St. Louis Cardinals in the longest game in the majors in two years. Jeff Francoeur also had a sacrifice fly for New York in the 19th inning, snapping a scoreless tie, but Yadier Molina singled in Albert Pujols with two out in the bottom half. Francisco Rodriguez (1-0) got the win despite yielding the tying run in the 19th. Starter Mike Pelfrey finished on the mound for his first career save in a game that included 19 pitchers and lasted 6 hours, 53 minutes. It was the longest game in the majors since Colorado beat San Diego 2-1 in 22 innings on April 17, 2008. St. Louis left the bases loaded in the 10th, 12th and 14th and stranded 22 runners, including 14 in extra innings. Molina caught the whole game and went 3-for-9. It was the longest scoreless game in the majors since the Los Angeles Dodgers and Montreal Expos went 21 innings without a run on Aug. 23, 1989, according to STATS LLC. The Dodgers won that one 1-0 on Rick Dempsey's leadoff homer in the 22nd. Utilityman Joe Mather (0-1) became the first position player to lose a game since shortstop Josh Wilson for the San Diego Padres in a 9-6 setback in 18 innings against the Arizona Diamondbacks last June 7. Mather hit for Colby Rasmus in the 10th and played center and third before taking the mound in the 20th for his first major league pitching appearance. The Mets jumped all over him. Angel Pagan started the 20th with an infield single and advanced to third on Mike Jacobs' base hit to right. Reyes followed with a fly ball to center field to give New York a 2-1 lead. It was the Mets' longest game since they lost 4-3 to St. Louis in 25 innings on Sept. 11, 1974, and the fourth longest in franchise history by innings. It was tied for the second longest in Cardinals history. Johan Santana started the game for New York and struck out nine in seven innings, allowing just four hits. Rookie left-hander Jaime Garcia gave up just one hit in seven innings for St. Louis -- a bloop single by Pagan leading off the sixth. Infielder Felipe Lopez also pitched a scoreless inning for the Cardinals. Pujols walked four times (twice intentionally). Mets third baseman David Wright walked twice, giving him a major league-leading 16 total. Cardinals outfielder Matt Holliday, mired in an 0-for-16 slump, struck out three times. Reliever Pedro Feliciano made his 373rd appearance with the Mets, moving into fourth on the club's career list.
Cardinals 5, Mets 3: Adam Wainwright threw a four-hitter with nine strikeouts and scored on Ryan Ludwick's tiebreaking two-run homer in the eighth inning. Colby Rasmus snapped an 0-for-18 slump with a tying three-run homer in the fifth against the Mets, who dropped two of three and have lost four straight series to open the season for the first time since 1997. Ludwick hit the first pitch from Ryota Igarashi over the left-field wall to score Wainwright, who had doubled off Pedro Feliciano with one out. Tobi Stoner (0-1), recalled from Triple-A Buffalo earlier in the day, allowed a run on three hits in 2 1/3 innings. Angel Pagan had two hits and two RBIs. Ludwick was 2-for-2 and walked three times, doubling his season total, and Matt Holliday was 3-for-3 with a walk to end an 0-for-16 slump. Mostly, the Cardinals leaned heavily on stingy starting pitching that allowed four earned runs in 45 innings during a 4-2 homestand while surmounting a lack of clutch hitting. St. Louis stranded 10 runners, four times leaving two on, a day after 22 men were left on in a marathon 20-inning loss. Wainwright (3-0) allowed only four singles and needed 107 pitches for his fourth career complete game. He also shook off a costly early error a day after receiving his first Gold Glove. The Mets bunched three of the hits in a three-run second, one of the runs unearned, after Wainwright's wild throw. New York had no extra-base hits the final two games of the series. Rasmus' third homer tied it at 3 in the fifth against John Maine, who has allowed four homers his first three starts. The Cardinals had at least two baserunners all five innings against Maine, who threw 115 pitches and hasn't lasted longer than five innings in any of his first three starts. The lone assist by the Mets in the first five innings was right fielder Jeff Francoeur's throw to the plate to nail Ludwick trying to score from second for the final out in the first. The Mets were 1-for-17 with runners in scoring position the first two games before getting a pair of hits plus Wainwright's crucial throwing error for a 3-0 lead in the second. Gary Matthews Jr. singled to load the bases before Pagan's two-run single. Pagan was stranded between first and second when Wainwright, backing up on a late throw to the plate, motioned to first baseman Albert Pujols and then floated a high throw into right field that allowed Matthews to score and Pagan to advance to third.